Carl Dittman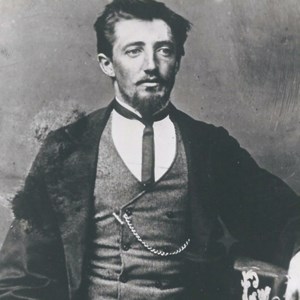 A sailor, hunter, and rancher, Carl Dittman was the first person to find the Lone Woman on San Nicolas Island in 1853. He was hunting sea otters on San Nicolas Island with George Nidever and five others when he located the Lone Woman. Dittman was also called Charley Brown, a name he was given by an English sea captain. Later, Dittman, who was born in Prussia, became an American citizen.
DATE OF BIRTH: November 7, 1825
PLACE OF BIRTH: Berlin, Prussia
DATE OF DEATH: 1901
PLACE OF BURIAL: Lompoc, California, USA
References
Dittman, Carl. "Narrative of a Seafaring Life on the Coast of California." Unpublished manuscript, 1878. Bancroft Library, University of California, Berkeley.
Dittman, Richard H. "Good Grief, Charley Brown!"
Ancestors West
31, 1–2 (2004–05): 13–15.
Ellison, William H., (ed.).
The Life and Adventures of George Nidever [1802–1883]: The Life Story of a Remarkable California Pioneer Told in his Own Words, and None Wasted
. Santa Barbara: McNally & Loftin, 1984: 80–85.
Findagrave.com. Find A Grave. Digital images. (
http://www.findagrave.com
: accessed December 30, 2015), photograph, gravestone for Charles Dittman (1822–1901), Lompoc, California.
Last updated: November 16, 2018