Schedule of Events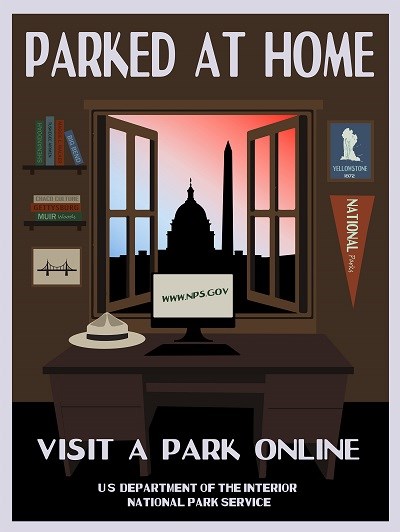 The Presidential Inauguration is completely virtual this year! The nation's capital is traditionally the scene of many events on Inauguration Day, including an official swearing-in ceremony of the next US president and vice president. The Presidential Inaugural Committee (PIC) and Joint Congressional Committee on Inaugural Ceremonies (JCCIC) are responsible for planning official inauguration events, some of which take place on or near the historic national parks and memorials managed by the National Park Service.

There are no public events located on or near national park lands in Washington, D.C. this year and the National Mall is closed at least January 15 through January 21, 2021. Some D.C. national parks remain the backdrop for virtual Inauguration Day events and those events are listed below.

More information about the Presidential Inauguration's full schedule of events is available on the organizer's website.
2021 Presidential Inauguration
The 59th Presidential Inauguration is scheduled for January 20, 2021, for the swearing in of President-Elect Joseph R. Biden and Vice President-Elect Kamala D. Harris. Biden will become the 46th President of the United States. The Presidential Inaugural Committee (PIC) announced this inauguration's theme is "America United."

A full schedule of events and ways to participate are made available on the PIC's website; additional details announced closer to the inauguration date. With health and safety a top priority, many inauguration events in 2021 have been reimagined as virtual experiences for people across the country to participate without attending in person.
January 19, 2021
National COVID-19 Memorial (5:30 pm ET): An illumination memorial to remember and honor the lives lost to COVID-19 was set up around the Lincoln Memorial Reflecting Pool. Cities and towns across the country were invited to participate by illuminating buildings and ringing bells around 5:30 pm ET.
January 20, 2021
Swearing-In Ceremony (12 pm ET): The president-elect and vice president-elect will take the oath of office at the U.S. Capitol, located at the east end of the National Mall. The ceremony is broadcast and livestreamed on numerous media outlets worldwide.

Pass In Review: A long-standing inaugural tradition, the Pass In Review allows our military to recognize their new commander-in-chief.

Presidential Escort (after 3 pm ET): The newly sworn-in president will be escorted from 15th Street to the White House on park land. Every branch of the U.S. military will be respresented in the escort, which will include performances by military bands.

Virtual Parade Across America: Instead of a traditional parade on Pennsylvania Avenue, there will be a virtual parade that will be televised for the American people and feature diverse, dynamic performances in communities across the country. The parade will celebrate America's heroes, highlight Americans from all walks of life in different states and regions, and reflect on the diversity, heritage, and resilience of the country.

Field of Flags: A new virtual experience this year, the Presidential Inauguration Committee will set up an art display of 56 pillars of light and approximately 191,500 US flags to represent every state and territory. The display will be located on the National Mall from 3rd Street to 13th Street to represent the American people who are unable to travel to Washington, DC for this year's inauguration.

Celebrating America Primetime Special (8:30 pm ET): A 90-minute televised prime-time program featuring remarks from the newly sworn-in president and vice president and celebrity performances will include scenes and special displays backdropped by the National Mall and Memorial Parks.
Additional Resources
Go Virtual

The 59th Presidential Inauguration is going virtual! Join the virtual festivities and explore your presidential national parks.

Closures

Check for road closures in national parks and throughout downtown D.C. to plan your route around them on Inauguration Day.

Press Contacts

Find resources if you are a member of the media with inquiries about the Presidential Inauguration as related to the National Park Service.
Last updated: January 19, 2021