Payment Management
Automated Standard Application for Payments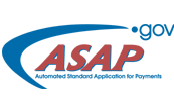 All Historic Preservation Fund grant recipients must use the Automated Standard Application for Payments (ASAP) system to access awarded grant funds. Once your grant has been approved within GrantSolutions, funds will push to ASAP. ASAP functions as a holding account from which you draw funds. This means that the funding will not be deposited into your bank account until you make a drawdown. Drawdowns should normally be made on a reimbursement basis after you have incurred allowable costs. If you need to draw down funding in advance of incurring costs, you should check with your grant manager.
Within ASAP, funds are assigned account numbers partially based on the grant number of your award. The first step in accessing ASAP is to determine whether your organization is registered with ASAP or not
and
whether that registration includes the ability to receive funds from the National Park Service. If you have never registered with ASAP,
or
if you have never received funds from the park service, you are a
new recipient
. If you have received a National Park Service grant before and are already registered with ASAP, you do not need to reregister. Once your account with ASAP is established, please work with the ASAP help desk for any questions that you have.
Please remember that ASAP.gov and SAM.gov registration is free. You should not pay for any services associated with these systems.
ASAP Help Desk
Bureau of the Fiscal Service, US Department of the Treasury
1-855-868-0151, option #2, then option #3 | Fax: 816-414-2120
Monday to Friday | 6:30 am to 5:30 pm Central Time
Email: asaphelpdesk@fiscal.treasury.gov
Enrollment with National Park Service in ASAP
Prior to setting up your ASAP account, all grant recipients MUST have an active registration in the System for Award Management (SAM). If you have trouble registering in this system, please contact the SAM helpdesk directly. Registration in SAM is free; you should not pay anything to establish or maintain your SAM account. Registrations in SAM.gov now require a notarized letter; processing of these letters may delay new and renewal registrations. SAM.gov provides a Quick Start Guide for new grantee registration that has helpful tips.
Initiating Enrollment in ASAP
Regardless of whether you are registering with ASAP for the first time, or your organization has an ASAP account for other Federal agencies, you must complete and submit an NPS ASAP enrollment form and submit it to ASAP_Enrollment@nps.gov.

Once the NPS Enrollment Office has received your enrollment form, you will receive an email from ASAP.GOV with you listed as the Point of Contact (POC) for your organization. You will also receive a User ID by email; however, your password will be sent to you via postal mail. Alternately, after you receive your User ID, you may call 855-868-0151, option #2, then option #3 for ASAP to obtain a password over the phone. We encourage you to obtain the password by phone. We have also heard reports that both User IDs and passwords are now being distributed via email.

The information you need to initiate your enrollment are:
DUNS or Unique Entity Identifier
EIN
type of organization
contact information for the Point of Contact

NOTE: As the POC, you may assign yourself to all roles within the system. This will expedite the enrollment process. Once enrolled, you can reassign the roles to maintain a proper separation of duties.

You must complete the steps outlined below within 45 days of the ASAP Enrollment office contacting you. If you do not do so, your account will be deleted and you will have to start over from the beginning!
Finalizing Enrollment in ASAP
In order to finalize your enrollment, you must add banking data to your ASAP account and may optionally add additional users. We very strongly recommend that you read through all of the actions below and consider adding staff to meet your organizational and risk management needs.

In order to finalize your enrollment with ASAP, please complete the following:
Make sure that you have initiated enrollment with ASAP via the National Park Service by completing an enrollment form and submitting it to ASAP_Enrollment@nps.gov.
Make sure that you have received both your User ID and password and that you are the Point of Contact (POC)
Log in to ASAP and add your banking information and any additional users you want. Remember, the POC role is required role and anything else is optional.
Point of Contact New Recipient Adds Additional Users
Enrollments (Tabs)
From the Enrollments tab drop down menu
Click "Add Officials"
Click "Organization Pending Enrollment"
Verify Organization information
Click "Accept"
Step 1 of 3 – Enter Recipient Organization Officials
Enter Officials Name & Information
Select all Roles that apply

Head of Organization (HOO) - approves changes to users and their roles
Authorizing Official (AO) - adds payment requestors and inquirer only users
Financial Official (FO) - enters and maintains banking account information
Point of Contact (POC) - adds users or modified their roles; this is the minimum role that must be associated with your account
Payment Requestor - initiates payment requests
Inquirer Only - can only run reports; no other role allowed

Click "Continue"
Step 2 of 3 –Review Officials
Click "Submit"
Step 3 of 3 – Define Officials Confirmation
Head of Organization to Approved Officials/Roles
Enrollments (Tab)
Select: Approve Recipient Organization Officials
Select Recipient Organization
Continue
Action: Approve all Officials listed
Step 2 of 2 – Confirmation
Action should say Approve
Authorizing Official Defines Recipient Profile
Enrollments (Tab)
From the Enrollments drop down menu click on "Define Recipient Organization Information"
Step 1 of 2, Enter Recipient Organization Information
Enter a Recipient Organization Short Name (this is used on ACH and Fedwire Transactions and is visible to NPS staff)
Scroll down
In the System access field select ASAP.gov only
Submit
Step 2 of 2, Recipient Organization Information Confirmation
Authorizing Official Defines Recipient Organization Users
Enrollments (Tab)
From the Enrollments drop down menu click on "Add Users and Roles" and then on "Organization Pending Enrollment"
Step 1 of 3, Enter User Information, Define the user profile including assigning the user role
Step 2 of 3, Review User Information
Step 3 of 3, User Enrollment Confirmation
Financial Official Defines Banking Information/New User
Enrollments (Tab)
From the Enrollments drop down menu click on "Add Banking Data"
Select "Recipient"
Continue
Step 1 of 3, Enter Banking Information
Click the Federal Agency(s) from which payment can be drawn for this Recipient Organization *DOI-14-10-0099
Continue
Step 2 of 3, Review Banking Information
Financial Official Certification Important Notice
Accept
Step 3 of 3, Banking Information Confirmation
Double check that payment method is ACH
This completes the enrollment portion for the Financial Official. If you successfully linked your banking information, you will receive a confirmation number.
Software Requirements
Grant recipients connect to ASAP.gov through a secure connection. The minimum software/platform required to use ASAP.gov is Windows 7 and above and a browser that supports TLS 1.2. Recipients using Windows XP or Vista or who use Internet Explorer versions released prior to 8.0 will not be able to access ASAP.gov. Configuration instructions for recipients who use Internet Explorer (versions 8.0 and higher), Mozilla Firefox, and Google Chrome browsers have been provided by ASAP.gov.

If you have previously bookmarked ASAP.gov for quick access, please make sure you are using the updated URL www.asap.gov. Older links to other versions of the site may no longer work.
Helpful Tip
Maintain your account by logging in at least every 90 days. If your account access is deactivated due to inactivity, please contact the Bureau of the Fiscal Service, US Department of the Treasury ASAP Help Desk.
Requesting Payments
All Historic Preservation Fund grants are reimbursement grants; ordinarily, recipients must have incurred costs before drawing down Federal award funds. To draw funds, submit a payment request through ASAP. Payment requests should be limited to the amount of costs incurred during the payment period. Once you have initiated the drawdown within ASAP, funds will be pushed to your bank generally within one business day via Automated Clearing House (ACH). Faster same-day delivery of funds may be available via the Federal Reserve Wire Network (Fedwire®). You can select the payment vehicle within the ASAP drawdown process.

General information on using ASAP and upcoming training sessions may be found at the Bureau of the Fiscal Service website.

If you need to return funds, you may do so in the ASAP system within 31 days of the drawdown. If more time has passed, contact your grant manager.
Information Needed to Draw Down Funds
Grant agreement
ASAP username and password with appropriate privileges
ASAP ID (also called Recipient ID); this is a 7 digit number
ASAP account ID; this is a combination of your grant number and 4-8 additional alphanumeric characters
User role of Payment Requestor
Knowledge of whether your award is High Risk or High Risk with Agency Review
For record keeping purposes, you may wish to send a copy of the SF-270 Request for Advance or Reimbursement form to your NPS grant manager. The form is helpful in maintaining accurate financial records and may be required for recipients determined to be high or medium risk to submit in advance of drawing funds. Your grant agreement will outline if and when this form is required.
How to Request Payment (Draw Down Funds)
Verify that the role of Payment Requestor has been added to your User ID by logging into ASAP and selecting the "Payment Request" tab.

If the role has been correctly added, you should see a list of options appear below the tab.
If the Payment Requestor role has not been added to you User ID, the person at your organization with the role of Authorizing Official will need to log in to ASAP.gov and selecting the "Enrollments" tab, then "Add Users & Roles," then "Enrolled Organization." Then, the Authorizing Official user should enter information for the user that should be added as a Payment Requestor.

Select "Initiate Payment Requests (PR)"
Retrieve Account(s)

Select your Bank Relationship (Bank Account)
Template field is not required to be completed; recommend to leave blank
Select Payment Request Type (usually "Individual")
Select Payment Method

Payments will process next business day for ACH
Payments will usually process the same business day for Fedwire

Set requested settlement date; settlement date means the date by which you want the funds in your account (most users select the next business day)
Requestor Reference Number: this field should not be completed and should be left blank
Once the above steps are complete, click "Continue"
On the next screen, verify the Recipient ID is correct. If this field is empty, enter your Recipient ID here.
Select the ALC/Region for the National Park Service (14100099)
Account ID: this field should not be competed and should be left blank
Once the above steps are complete, click "Continue"

Payment Transactions

"Enter Payment Transactions" allows you to locate your account and enter your desired drawdown amount. The amount should be entered on this screen under the "Amount Requested" for your corresponding Account ID
Once you have entered an amount in the "Amount Requested" field, click continue at the bottom of the screen to proceed to the next step

Review Payment Transactions

Review data, make any corrections and click the "Submit" button to make the payment request

Payment Transaction Confirmation

ASAP.gov recommends that you print the confirmation of the payment request for your records
When you are ready, you may leave this screen by selecting the "Home" tab
Payment Methods
There are three types of payment methods in ASAP. This means that you can request that grant funds be paid out to you in any one of three methods: payment via Fedwire®, payment via ACH with same day payment, and payment via ACH with next business day payment. The difference between the methods is the speed with which funds will be deposited into your bank account. Fedwire® is wire transfer between ASAP and your bank. ACH, or Automated Clearing House, is very similar to online bill payment services offered by many banks. Most bank accounts should be configured to receive payments by either methods; however, you may wish to double-check this.

Requesting Same Day Payment
Request payment via Fedwire® (same-day payment may not be available if the request is made after 5:45 pm Eastern Monday - Friday)

Request payment via ACH (same-day payment not available for large amounts or for any request made later in the day; if you need same-day ACH payment, plan to make your request generally not later than 11 am Eastern)
Requesting Next Business Day Payment
Request payment via ACH (if you elect to receive payment via ACH for the next business day, there is no restriction on the dollar amount requested or the time of day the request is made)
Additional Information for High Risk or High Risk with Agency Review Awards
If your grant has been identified as High Risk or High Risk with Agency Review, you must submit additional documentation to your grant manager prior to initiating a payment request in ASAP.
Payment Requests for High Risk Awards
submit an SF-270 with supporting documentation to your grant manager
receive approval to make drawdown from grant manager
submit a payment request in ASAP, following the guidance above
Payment Request for High Risk with Agency Review Awards
submit an SF-270 with supporting documentation to your grant manager
receive approval to make drawdown from grant manager
submit a payment request in ASAP
wait for the National Park Service Accounting Operations Center to configure ASAP to allow you to draw only the approved amount (note that you may or may not be notified by ASAP when this happens, so it is important to coordinate with your grant manager)
finalize payment request in ASAP, following the guidance above
Returning Funds
Grantees usually need to return funds if they accidentally draw too much, draw from the wrong account, or have had costs disallowed.
If you need to return funds against a drawdown, you may do so at anytime within ASAP, as long as the account is still open. If the account is closed, please contact your grant manager for further instructions.
Returning Funds Using ASAP
To initiate the return of some or all funding from a drawdown request, log in to ASAP and select "Return ACH Payment" from the Payment Requests menu.
Retrieve Payment Information

Enter a Payment Settlement Date range. This is the date range that includes the original payment settlement date you requested.
Enter a Payment Amount range. This is a dollar amount range that includes the original payment amount.
Optional fields that may be completed to help narrow your search

Recipient ID (also referred to as your ASAP ID)
Agency Location Code/Region (ALC)
Account ID is the full account code from which the original draw was made
Requestor Reference Number will allow you to search based on data entered in this field when you made the initial draw; however, most grantees will not find this a useful search as we recommend leaving this field blank during the drawdown process

Click "Continue" to search for corresponding payments (drawdowns)
Select the payment (drawdown) amount

Select the radio button to the left of the payment amount that corresponds to the drawdown against which you are returning funds
Click "Continue" to display original payment request details, including the Recipient Organization, grant awarding agency, and the account from which the original payment was requested and to which it will be returned

Enter Return Payment Amount

Enter the return amount. This is the amount you are returning to the National Park Service.
Enter the return reason. This is the reason you are returning funds; you will select a reason from the dropdown menu provided.
Enter the return reference number.
Click "Continue" when all required fields have been completed.

Review Return Payment Amount

This screen is the final opportunity to review the return request before it is finalized.
If the data displayed are correct, click "Submit" to initiate the return via ACH.

Return Payment Initiation Confirmation

Review the ACH debit agreement carefully. If you agree to the terms, click "I Agree:" otherwise, click "Cancel." If you click "Cancel," you will be returned to step 3.
Once you authorize the origination of the return payment, i.e., ACH debit, the system displays a confirmation page. The status will display "Pending" which means that the return payment is awaiting settlement on the following business day.
On the day the funds you are returning settle, the return payment will be debited from the bank account you associated with ASAP and transferred back to the US Department of the Treasury. You may receive a confirmation email when this happens, but we do not, so please let your grant manager know when you are returning funds and when the return has been processed.
Drawing Down of Returned Funds
Funds returned to ASAP via the above method (ACH) will appear in your account balance on the settlement date. However, in will take up to two additional business days after the settlement date for them to be available for you to draw against.
Returning Funds by Check
This is not the preferred method or standard way to return funding. You will need to carefully coordinate this process with your grant manager. Checks
must
be made out to the
National Park Service
(never an individual) and
include the grant number
.
Do not send a check to any part of the National Park Service without checking with your grant manager first.
Funds should be returned by check only when it is not possible to return them directly within ASAP.
Changing Account Information
After an award is made, you may have an organizational need to change some of the information associated with your grant. Please note that changing your DUNS number or associated banking information can require NPS to cancel your award, resulting in the permanent loss of any remaining funding. If you anticipate needing to change your DUNS or banking information, these must be made first in SAM.gov and then in ASAP.gov; never delete a record in SAM.gov without coordinating with your grant manager. Changing DUNS, DUNS+4, or banking information once an award has been made is risky; you should contact your grant manager well in advance of proposing changes to any of these three items.
You can make the following changes to your ASAP account as a grantee (Recipient Organization - RO):
DUNS - see note above
EIN
Recipient Organization Name
Recipient Organization ID
Add officials to an active Recipient Organization
If you would like to change or updated officials for an active Recipient Organization (called Points of Contact (POCs) or the Head of Organization (HOO) by ASAP), NPS must review and approve the change.
To make these changes, please take the following steps:
Download and complete blocks 1 and 2 of the ASAP Recipient Organization Action Request Form
Submit this request to the NPS ASAP Help Desk
NPS ASAP Help Desk will complete block 3 and return the form to you
Prepare one letter on organizational letterhead outlining all requested changes and have the letter signed by an authorized official
Submit the form and the signed letter to ASAP.gov
Renewing System for Award Management (SAM.gov) Registration
Grantees are required by 2 CFR 200 and the terms of their grant agreement to maintain a current registration with SAM.gov as long as they have an active grant. Usernames and passwords for SAM.gov are managed through login.gov.
SAM.gov Help Desk
Federal Service Desk
866-606-8220 | +1 334-206-7828
Monday to Friday | 8 am to 8 pm Eastern Time
Last updated: November 3, 2022