Art Contest 2018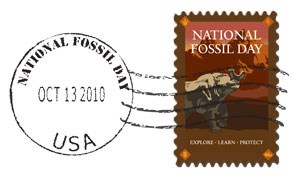 About the Contest
The National Park Service and National Fossil Day partners are sponsoring an art contest to celebrate the 9th annual National Fossil Day. National Fossil Day is scheduled for Wednesday, October 17, 2018, during Earth Science Week. The theme for this year's art contest is: "The Age of Reptiles–More Than Just Dinosaurs." This theme will allow us to recognize some of the incredible non-dinosaur reptiles of the Mesozoic that are sometimes incorrectly referred to as dinosaurs, and more frequently overshadowed by the dinosaurs! The 2018 National Fossil Day logo features one of the more famous non-dinosaur reptiles from the Mesozoic.
Please see below for contest guidelines.
Click
here
to download the art contest entry form.
Contest Guidelines
Who can enter?
The contest is open to any interested person, of all ages. Entries will be judged based on originality, creativity, and how well the submission addresses this year's contest theme. You must be a resident of the United States to enter.
What should my artwork include?
Your artwork should focus on the art contest theme "
The Age of Reptiles – More Than Just Dinosaurs
"
What is a reptile? Reptiles are vertebrate animals that have dry scaly skin and typically lay soft shelled or hard shelled eggs on land. Living reptiles include snakes, lizards, tuatara, crocodiles, turtles, and tortoises. Each of these groups became established during the Mesozoic Era, 252 to 66 million years ago, alongside many other groups of now-extinct reptiles. Unlike today, mammals were only small animals that filled only a few of the niches they now fill, and birds were just beginning to diversify. Instead, reptiles were the most abundant and diverse land vertebrates. This is why the Mesozoic is sometimes called the "Age of Reptiles".

Although dinosaurs are the most famous Mesozoic reptiles, they were by no means the only Mesozoic reptiles. Dinosaurs never became fully marine; instead, marine reptiles such as ichthyosaurs, plesiosaurs, and mosasaurs dominated the seas at different times.

Until a group of theropod dinosaurs evolved into birds, the only aerial vertebrates were other reptiles, such as the gliding kuehneosaurs and the pterosaurs. Even on land there were many groups of non-dinosaurian reptiles. Some groups of reptiles continue to this day, such as turtles, lizards, snakes, tuatara, and crocodiles. Others went extinct, such as the herbivorous aetosaurs and rhynchosaurs, the crocodile-like phytosaurs, the dinosaur-like rauisuchians, and the champsosaurs, which resembled fish-eating crocodilians. Although many of these groups were very different from each other, they all had this in common: they were reptiles but not dinosaurs.

We are looking for artwork of reptiles, other than dinosaurs (including birds), that lived during the Mesozoic Era.

There are many other reptile species that lived at the same time and in some cases alongside the dinosaurs during the Triassic, Jurassic, and Cretaceous. We encourage artists to find what they consider the most extreme, weirdest, or coolest, or just their favorite non-dinosaur Mesozoic reptile as their subject. Dinosaurs, including birds, can be present in the art piece but cannot be the main focus of your art. The artwork can be in the form of a photograph (black & white or color), a painting, a drawing, or a sketch. All artwork must be 2D and flat.
Questions to help you get started...
What is your favorite reptile? Did your favorite reptile or a relative of your favorite reptile live during the Mesozoic Era? What environments do reptiles live in? What is your favorite fossil site and are reptile fossils found there? How are fossils preserved? What do reptile fossils look like?
How large should the artwork be?
All artwork should be able to fit inside a 13"x 17" envelope or smaller.
What do I need to submit?
A valid submission will contain the following information:

1. An original copy of the artwork. Each piece must be original, authentic, unpublished, the sole property of the entrant, and not previously submitted in any other contest. Make sure to include a sentence or two on your submission form describing your artwork.
2. Your personal information, printed on either the back of your artwork or on a separate sheet attached to your artwork:
First and last name:
Mailing address:
Phone number:
E-mail address:
3. A completed and signed entry form. Print out the entry form
here
and send it to us when you send your artwork. Entries cannot be accepted without a signed entry form.
How should I submit my artwork and entry form?
Artwork must be sent by mail, along with your contact information.
Important
:
You must have a signed and completed entry form (if under 18, a parent or guardian must sign) to enter.
Entry forms may be submitted by mail along with your artwork. All mailed entry forms must be sent to:
National Fossil Day 2018 Art Contest
Vincent L. Santucci
Paleontology Program Coordinator
National Park Service
Geologic Resources Division
1849 C Street, NW (Room 2644)
Mail Stop - 2647
Washington, DC 20240
If you have any problems or questions regarding the art contest, please contact the National Fossil Day staff at vincent_santucci@nps.gov.
When is the deadline?
All submissions must be received by mail by 5 p.m. EST, Friday, October 5th, 2018.
How will the artwork be judged?
The artwork will be judged by a panel on originality, creativity, quality and, most importantly, relevance to the topic. Four top entries in each age group will be selected including 1st Place, 2nd Place, 3rd Place and Honorable Mention. The age groups are:
8 years old and under
9 to 13 years of age
14 to 18 years of age
18 and older
The winner's artwork will appear on the National Fossil Day
Art Contest Winners Gallery
starting on October 17th, 2018. Check the National Fossil Day website to see if your artwork has been selected!
Disclaimer: By submitting an entry, an entrant agrees to allow the National Park Service to use his or her name to post on the NPS's National Fossil Day Web site, without compensation unless prohibited. All entries and all rights of ownership in and to the entries, including all rights to use, reproduce, publish, modify, edit, and distribute the same will become the exclusive property of NPS and will not be returned. NPS reserves the right to edit, modify, copyright, publish, use, and reproduce any and all entries without further compensation. The National Park Service, its agents and contractor, are not responsible for lost, late, misdirected, incomplete, or postage-due entries. Contest void where prohibited or restricted by law.
Last updated: March 22, 2018