Watching Fish
The health benefits of eating fish are well known, but did you know that watching fish can be good for you too? Scientists from Plymouth University and the University of Exeter Medical School have discovered that watching fish can help reduce blood pressure and improve your mood. It turns out that the greater the biodiversity and the more colorful the fish, the greater the health benefits.
So even if you don't have fishing gear or live near water, you can watch these fish videos and webcams and be assured that you are improving your health.
Webcams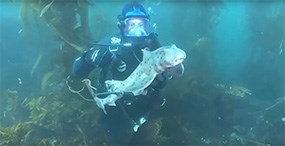 Anacapa Ocean - Channel Islands National Park
This underwater cam is position in the landing cove of Anacapa Island, one of five islands that make up Channel Islands National Park. Watch the gentle sway of the amber-colored kelp forest and the marine species that live within it. Check the Channel Islands Live page for more information about live broadcasts.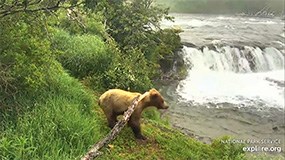 River Watch - Katmai National Park
Mounted on the floating bridge over Brooks River, these cams provide an unprecedented view of migrating salmon and bears "snorkeling" for them, both above and below the water.
Visit Katmai National Park and Preserve's website to see the bears in action. July is the best time to watch bears fishing at Brooks Falls, and the cameras are live now!
Last updated: July 2, 2018