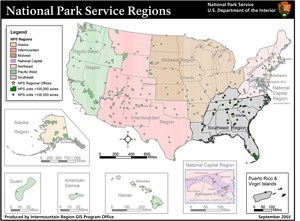 The diverse natural and cultural melting pot of the Southeast Region provides for a rich array of resources – from the former sugar fields of Virgin Islands National Park, to live oak allées at Cane River Creole National Historic Site, to the globally imperiled spruce-fir ecosystems of the Great Smokies. Southeast cultural landscapes may be as small as the 0.2-acre William Johnson House property at Natchez National Historical Park in Mississippi, as long as the 469-mile Blue Ridge Parkway in Virginia and North Carolina, or as vast as the 125,000-acre Big South Fork Rural Historic District in Tennessee.
While the Southeast United States is renowned for a number of Civil War sites, this is only one resource type to be found in the region. The Revolutionary War, the War of 1812, World War II, and the Cold War all have representation here. The Southeast Region is also home to antebellum plantations, vernacular mountain farmsteads, and the homes of poets and business tycoons.
With over twenty coastal parks, climate change is an increasing threat. It affects ecosystems whose vulnerable, southernmost extents are found in the Appalachian mountains, and exacerbates management challenges with invasive animals and plants that gain further ground with milder temperatures.
Planning a trip, or simply looking to learn more about the cultural landscapes in your area?
Search the cultural landscape profiles in the list below, or browse the landscapes in these national parks (and please check back for updates!):