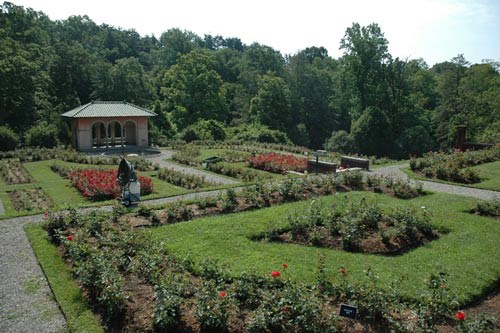 For example, replanting missing historic plant specimens with diverse species or diverse varieties of the same species reduces the plantings' vulnerability to single-species diseases and pests.
At Vanderbilt Mansion National Historic Site in Hyde Park, New York, roses that had been lost in the formal garden were replanted with multiple rose species and varieties that reflected the historic colors and forms of the original 1916 planting, designed by Robert Cridland for the Vanderbilts. This rehabilitation approach increased the genetic diversity of the planting, thereby enhancing pest and disease resistance.
In addition, replanting a diverse collection of roses allowed for flexibility in collaborating with the park's friends group, which contributed to the installation of plant material; the replanting decision also supported the NPS's current in-house maintenance capacity. In addition to the environmental benefits of a genetically diverse replacement planting, these other two dimensions of the project were central to fulfilling the social and economic aspects of sustaining the garden in perpetuity.
5
On the National Mall, a cultural landscape in Washington, DC, over two hundred American elm (
Ulmus americana
) trees have succumbed to Dutch elm disease since 1952. Dutch elm disease is caused by three strains of a micro-fungus, Ophiostoma ulmi, and is spread by the European elm bark beetle (
Scolytus multistriatus
) and the native elm bark beetle (
Hylurgopinus rufipes
). On the Mall, the NPS has replaced the American elm trees lost to the disease with a range of different elm species, including many Dutch elm disease- tolerant cultivars of the American elm.
6
The genetic diversity afforded by this planting of multiple species and multiple cultivars—including
Ulmus americana
''Jefferson,'' ''Washington,'' ''Princeton,'' and ''Liberty''—helps to build the capacity of the Mall's trees to withstand mutations in the disease or the introduction of new diseases or pests.