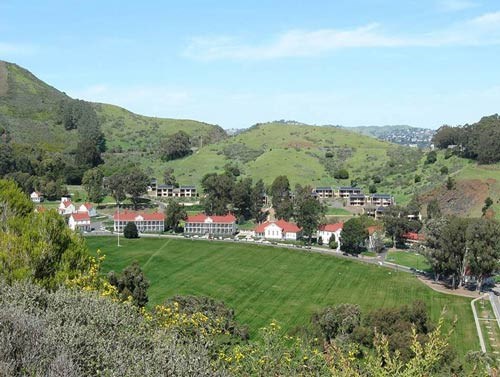 Substituting turf grass with drought-tolerant grass species allows lawns to adapt to seasonal fluctuations in rainfall without landscape irrigation. At Fort Baker, a cultural landscape and unit of Golden Gate National Recreation Area in Sausalito, California, the historic parade ground was rehabilitated to reflect its 1939 character, with more sustainable turf that reduced mowing, water, and fertilizer requirements. The NPS and the park's nonprofit partner, the Golden Gate National Parks Conservancy, established several test plots on the parade ground to evaluate the cover, growth, and color of species under consideration and to ultimately select the most appropriate turf species composition for area-wide rehabilitation planting.
A hard fescue cultivar with high heat tolerance, Aurora Gold (
Festuca trachyphylla
), was ultimately selected. For three years following installation, maintenance staff used an automated irrigation system connected to an on-site weather station to establish sufficient cover. Today, only limited irrigation is used in the regular maintenance of the lawn (about 1.3 million gallons of water per year, compared to 15.5 million gallons per year for comparable areas of traditional lawn). The rehabilitated parade ground lawn also minimizes pesticide and herbicide use, resulting in a decreased risk of runoff. The growth rate of the lawn requires mowing only a few times a year during peak growing season.