Law, Regulation & Policy
In 1916, the passage of the National Park Service Organic Act established the National Park Service (NPS). It is from this original law that the NPS Commercial Services Program evolved.
What Laws Govern Concessions?
The 1965 Concession Policy Act (Public Law 89-249) historically governed concession contracts and operations. This law authorized numerous policies and procedures regarding concessions operations.
Congress enacted the 1998 Concessions Management Improvement Act (Public Law 105-391) with the objective of improving concessions and increasing competition of contracts.

Some of the major changes in the 1998 Act include:
Reduced preferential right situations
Franchise fee distribution changes
New competitive bid requirements
Increased accountability and oversight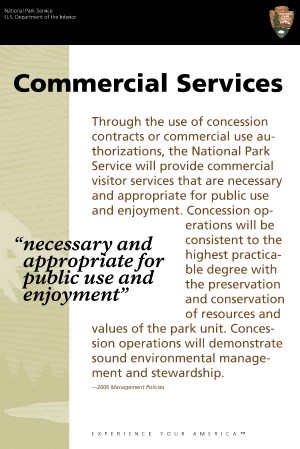 What Regulations Govern Concessions?
Regulations which cover concession contracts can be found at 36 CFR 51 which address:
Contract Solicitation, Selection and Award Procedures
Right of Preference to a New Concession Contract and Determining a Preferred Offeror
Leasehold Surrender Interest and Possessory Interest
Concession Contract Provisions
Assignment or Encumbrance of Concession Contracts
What Policies Govern Concessions?
In order to implement the requirements of law and regulation, the NPS has a specific set of Management Policies that guide agency operations. These policies are an indispensable tool to help NPS employees manage parks responsibly and make rational, well-informed decisions. The public may also refer to these policies to understand how the NPS will meet its park management responsibilities under the 1916 NPS Organic Act. Chapter 10 of NPS Management Policies provides management guidance specific to commercial visitor services. Program processes and procedures to implement the policy contained in Management Policies can be found in the Commercial Services Guide. Additional polices are provided by topic below.
Last updated: September 9, 2022