Toolkit: Exhibits
Exhibits are effective tools, but there must be the right balance of media elements and text to make them effective. Exhibits may be dynamic, interactive, or static, and selecting the right style for its intended purpose is important. The resources found in this section will help you as you begin planning your next exhibit project.

Glacier National Park
Many Glacier Wayside Project
In particular, The Answer panel delves most directly into climate change. This panel is located near the dock on Swiftcurrent Lake in the Many Glacier Valley, where visitors waiting in line to board the boats have an extended opportunity to read the sign.
From the media team: With the direction to address climate change as a subject on one of our wayside signs in the Many Glacier valley, we chose this location at the boat dock because visitors would have an extended period due to wait times to absorb the complex subject of climate change, as well that several glaciers can be seen from this vantage point. We debated how to approach the subject during our brainstorming sessions going through several reiterations on the park themes, as well as site specific stories on threatened species and or specific historic accounts of glaciers. We decided to focus on what the glaciers provide which is a water source and how that water source could affect them. We wanted to also encourage the visitor to seek out the answer to what should we do about it. The title is a play on the often asked questions: Where are the glaciers? When will they be gone? What are we doing about it?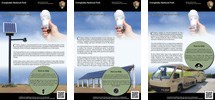 Everglades National Park
Bright Ideas in Alternative Energy: Panel 1 | Panel 2 | Panel 3
A series of three full-color, outdoor signs were developed and installed as a means of introducing climate change issues, highlighting mitigation efforts, and inspiring visitors to take complementary actions at home. The project was initiated by the science communications team from the South Florida Natural Resources Center, Everglades National Park. Signs were developed to highlight park investments in solar parking lot lighting, campground solar water heating, and the use of biodiesel in visitor trams.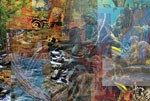 Biscayne National Park
"Piecing Together a Changing Planet" is an art exhibit that debuted in Biscayne National Park in 2014. This traveling show of twenty-six quilts highlights a few of the ways that national parks are being impacted by climate change and other human activities. All quilts were created by members of the Florida region of Studio Art Quilt Associates. After Biscayne, the quilt exhibition travels to many other parks including Point Reyes National Seashore, Glacier National Park, Statue of Liberty National Monument, Great Smoky Mountains National Park, and others. Learn more and view a complete exhibition schedule on the exhibition website. You can also view photos of the exhibit and read an article about it from National Parks magazine.
Last updated: April 13, 2020