Climate Change Response Strategy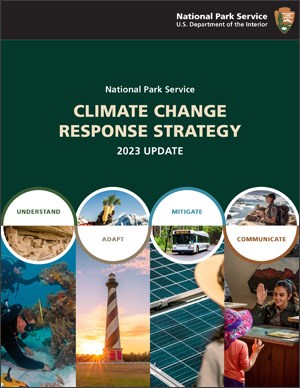 A Bold Vision
The National Park Service
Climate Change Response Strategy 2023 Update
[13.6 MB PDF] provides an integrated framework to address the challenge of climate change across the National Park System. The Strategy outlines goals and objectives across four cornerstones:
Understand
the science,
Adapt
to changing conditions,
Mitigate
the cause, and
Communicate
about the issue.
The Climate Change Response Strategy 2023 Update is anchored in both Congressional law and agency policy that directs the work of the National Park Service. The 2023 Update is—in turn—the foundation upon which additional guidance has been developed to address climate change throughout the work of the agency.
Please note that the Strategy contains many hyperlinks to provide access to expanded content and additional resources. Though each link in the PDF file was verified at time of publication, the location of resources may change over time. As a service to the reader, all links are also
available on this resources page
which will be updated as necessary.
---
Video Introduction
View the video below to learn how the Climate Change Response Strategy fits into the larger NPS mission. You can also
view this video on YouTube
.
Visit our keyboard shortcuts docs for details
Duration:

3 minutes, 40 seconds
The Climate Change Response Strategy 2023 Update positions the ongoing work of the NPS in line with our current state of knowledge. The 2023 Update organizes goals around four cornerstones of action: understand the science, adapt to changing conditions, mitigate the cause, and communicate about the issue.
---
The 2010 Climate Change Response Strategy
The 2010 National Park Service
Climate Change Response Strategy
[5.1 MB PDF] is superceded by the 2023 update and is provided here for historical reference.
Last updated: October 11, 2023