Resource Stewardship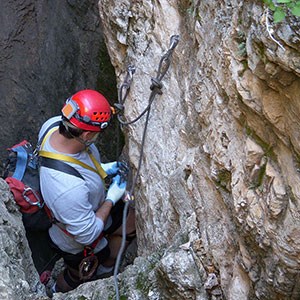 The National Park Service (NPS) manages over 4,700 caves including 4 out of the longest 6 in the world and karst landscapes that encompass some of the largest freshwater springs in North America. Cave and karst resources are valued for the:
large amounts of freshwater they contain;

unique and fragile ecosystems from microbes and invertebrates to cave-adapted fish and other vertebrates that they house and support;

materials they contain including fossils, artifacts, minerals, and speleothems;

opportunities provided for scientific study and inventory that range from original physical exploration and documentation, to hydrologic system modeling, to the search for life on other planets;

recreational opportunities given to millions of visitors a year; and

inspiration that the natural cave and karst world provide.
Knowledge of cave and karst resources within the NPS continues to expand with numerous park units actively exploring, documenting, and studying newly discovered caves and cave areas on a regular basis.
The National Cave and Karst Program advocates for cave and karst resources and seeks to provide:
consistency in documentation procedures;

overarching safety, conservation, and ethics protocols;

advice and guidance of laws, regulations, policies;

review of current best management practices for long-term conservation that includes mitigation, restoration, and monitoring activities;

guidance, review and support for planning and compliance issues;

education and outreach

for staff and visitors;

identifying issues and needed projects;

maintenance of a nation-wide network of NPS and other agency cave and karst managers, and partner organizations and institutions;

facilitate science and research;

encourage, where appropriate, a wide-range of recreational opportunities; and

conserve and protect the cave and karst resources of the NPS.
Last updated: July 5, 2023