ROW: Skin Boat of the Bering Strait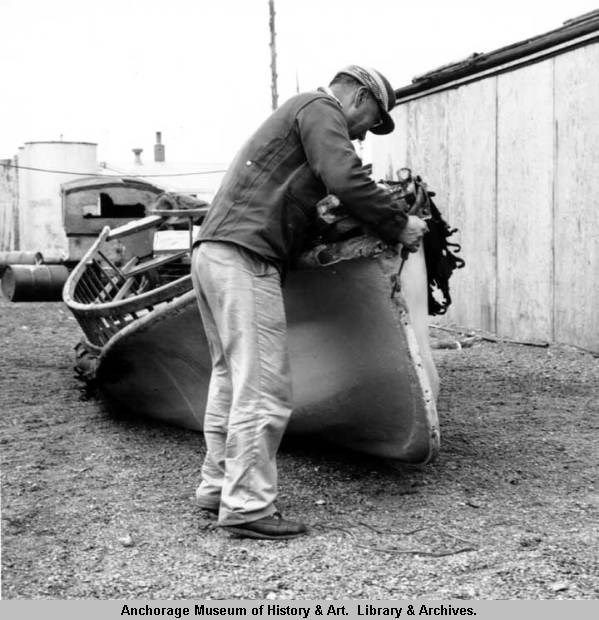 Partners
: GoNorth! Adventure Learning (Alaska, USA), The Native Village of Savoonga Tribal Council (St. Lawrence Island, Alaska, USA) and The Sea Mammal Hunters Association (Lorino, Chukotka, Russia)
Contact
: Mille Porsild
Duration
: 3 years (2021 – 2024)
Skin boats have long been used in the waters surrounding St. Lawrence Island. They possess many cultural meanings and offer some advantages over contemporary aluminum and fiberglass watercraft, but are not currently built or used on St. Lawrence Island. This project aims to revitalize the practice of making skin boats on the island and connect a new generation of hunters to existing communities of skin boat makers in Chukotka, who maintain active use of skin boats for both hunting and racing.
A group of St. Lawrence Island hunters will travel to Lorino, Chukotka to construct two skin boats with local indigenous experts and to participate in the skin boat regatta, reconnecting with traditional knowledge. Following this trip, skin boat workshop will be held in Savoonga, St. Lawrence Island. The project team will document this process and disseminate the knowledge though K-12 curriculum, on-line learning experience, social media and teacher's workshop. This international cooperation between hunters on both sides of the Strait in Alaska and Chukotka will aid continued preservation of their mutual heritage.
Russian Component:
This project includes several travel exchanges between St. Lawrence Island and communities in Chukotka for the purposes of skin boat making and race training, culminating with the projected return of the Walrus Festival to St. Lawrence in June of 2024 featuring community representatives from Chukotka.
Last updated: September 14, 2021