Moving the Needle on the Conservation of Critically Endangered and Threatened Shorebirds in Beringia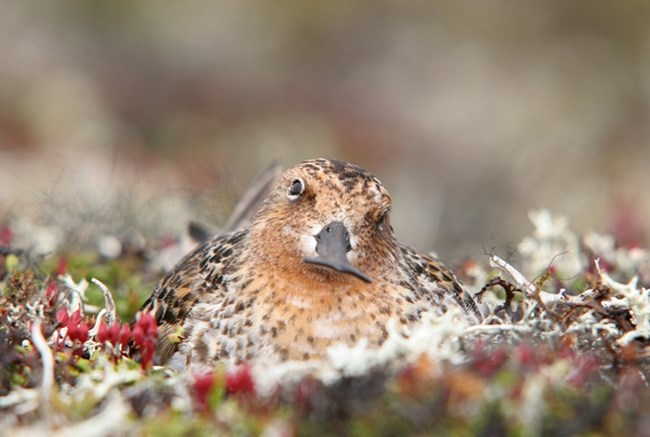 Partner:
Virginia Polytechnic Institute and State University (Virginia Tech)
Contact:
Daniel Herbert Catlin
Duration
: 2019-2023
This project seeks to improve the conservation of two iconic and endangered Beringian shorebird species: Spoon-Billed Sandpiper and Red Knots by better understanding their distribution and factors limiting their populations. Obtaining information on where Spoon-Billed Sandpiper nest in Russia and demographic rates on Red Knots are critical first steps in conserving these internationally significant species.Information collected in this study will help meet objectives and actions identified for both the Spoon-billed Sandpiper and the Red Knot shorebirds conservation plans, meet numerous objectives in the Arctic Migratory Bird Initiative flyway plans, as well as meet the conservation objectives outlined in the U.S. and Alaska Shorebird Conservation Plans. Finally, this information will assist local resource managers to designate areas of high shorebird use to be Important Bird Areas or East Asian-Australasian Flyway (EAAF) Network sites. Information will also assist NPS resource managers with the avian conservation mandates contained in the enabling legislation of Cape Krusenstern National Monument and Bering Land Bridge National Preserve.
Russian Component:
This project has been developed through strong collaboration of principal investigators from Russia, the United States, and Britain with extensive experience working on shorebird ecology and conservation. Two Russian experts on the spoon-billed sandpiper (E. Syroechkovskiy and E. Lappo) will help conduct surveys in Alaska. In Russia, researchers will survey potential breeding habitats and record their findings in regular blogs about their activities, and interact directly with villagers met while traveling to and conducting surveys. Russian experts on Red Knot populations on Wrangel Island, Russia, will travel to Alaska to study Red Knots with US colleagues as well as to compare data and help assess the overall conservation status of the species throughout its breeding range.
Last updated: October 16, 2020