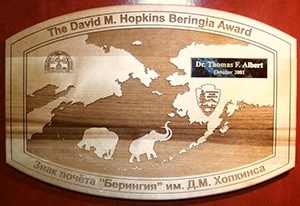 Dr. David M. Hopkins was an outstanding American scholar whose tireless work, passion, and dedication to Beringian studies helped to advance international collaboration and the collective knowledge of the Beringia region. In
The Last Giant of Beringia
, Dan O'Neil writes:
"Dr. Hopkins did not 'invent' or 'discover' the Bering Land Bridge. Others had suggested its existence before him. However, it was Hopkins who had the vision to realize that geologists, botanists, archeologists and others - all working together - could reconstruct the ancient landscape and prove its past existence."
Hopkins published two landmark books on Beringia, drawing on expertise from many fields, including geology, paleontology, geophysics, paleomagnetics, oceanography, geochronology, botany, cytology, paleobotany, palynology, physical anthropology and archeology.
His first book,
The Bering Land Bridge
, was published in 1967 and firmly established that the land bridge must have existed. It received rave reviews from around the world. His second book,
The Paleoecology of Beringia
, followed in 1982.
Hopkins retired from the USGS after over 50 years as a field geologist. During his career he was presented with numerous awards and received other recognition for his outstanding contributions to our knowledge of Beringia. He won awards from the National Geographic Society, the American Association of Petroleum Geologists, the Society for American Antiquity, the American Quaternary Association, and the Geological Society of America. He also was awarded an honorary Doctor of Science degree from the University of Alaska Fairbanks. His contributions also will be preserved forever in the scientific names of at least six species of Beringian fossils named in his honor.
Before his passing in 2001 Hopkins graciously agreed to let the National Park Service use his name on this Beringia award, which we offer on a periodic basis to others whose work exemplifies the standards and values embodied by Dr. David Hopkins. These include outstanding scientific inquiry, conservation ethic, interdisciplinary vision, and personal contribution to the people, history, resources, and culture of the Beringia region. For more information or to suggest a candidate, contact
e-mail us
.