Blind/Low Vision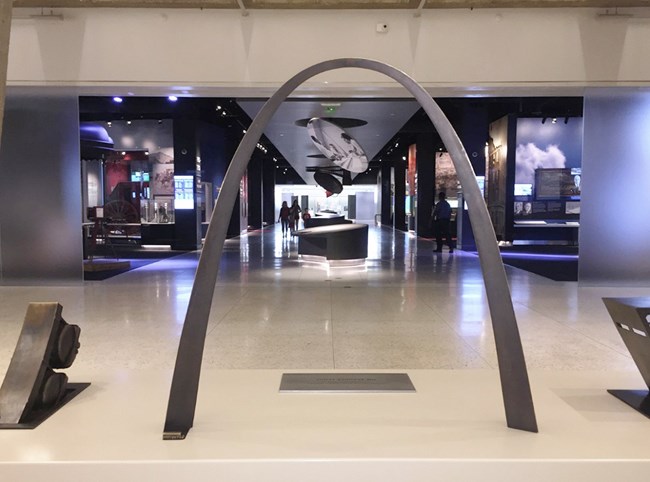 Note: Parks may have alerts on current park conditions whenever weather or other factors (e.g., construction) has altered accessibility.   
Visitors who are blind or have low vision may find the following kinds of information on individual park accessibility pages:
Programs and Tours 
Programs that offer tactile information, maps and models.

Location of tactile displays

Where audio description of sights and/or activities offered, and how is that audio description accessed.
Alternate formats of printed materials are available? (e.g., large print, braille, digital, audio description, etc.).

Please check individual park websites for current program offerings or our event calendars. 
Trails and Outdoor Exhibits/Waysides
Parks may provide the following information for their trails and access to their waysides:
Safety concerns visitors should keep in mind. For example, if wildlife might be encountered on a given trail, what should a person who is blind or who has low vision know to be prepared and safe.

Alternate formats of printed materials are available? (e.g., large print, braille, digital, audio description, etc.). 

Whether any trails or waysides have audio description available, and how to access those descriptions.

Waysides with tactile experiences.

 Some parks may have a specific Accessibility brochure information, too, with recommended or trail suggestions.
Visitor Centers
The following information may be available about park visitor centers (and other facilities, like restaurants):
Accessible parking information and notable terrain barriers between the parking lot and the facility entrance.

Alternate formats of park information on printed materials that are available (e.g., large print, braille, digital, audio description, etc.)

Exhibit information: How to access  audio descriptions for exhibits, whether there are tactile models and maps, orientation maps, and/or multi-sensory presentations such as audio programs and films.
Entrances: Are there automatic or push-button door openers.

Restrooms: what restrooms equipped with accessible stalls, sinks, and hand dryers.

Payphone, if there one available.
Cell-service availability

Water: if there are water fountains and/or a water filling station available.

Benches: if benches are provided throughout the visitor center and in outdoors area around the center. Where are they located in relation to the facility entrance.

Elevator or Lift: if there is one to access buildings.
Campgrounds
The following information may be available about all park campgrounds. Note that not all national parks have campgrounds.
Site Accessibility: General information about how many individual, group and accessible sites. What accessible sites have electricity hook-ups. Where the accessible restrooms are in reference to the sites. General description of terrain at the campground, level, vehicle-accessible, and what kind of surface.
Alternate formats of campground maps or any visual notifications used (e.g., large print, braille, digital, audio description, etc.). 

When the campground registration staffed, in case of questions or if additional help is needed.   
Restrooms/showers: General idea of how many restrooms and showers are available.

Amphitheater: What kind of surface and slope is encountered on paths to and from. Where designated accessible seating is located.
Concession Facilities 
Concessioners fill a vital role with helping the National Park Service (NPS) carry out its mission. Private companies work with the NPS to offer services to park visitors that parks do not provide directly.  Concessioners offer a variety of activities and services in our National Parks from parking facilities and lodging to retail, rental and guide services.   

Follow this link for more information describing accessibility regulations upon our Concessioners. You can also search for individual park concession operation will provide more accurate up-to-date information. 
Last updated: December 29, 2022