Bicycling Information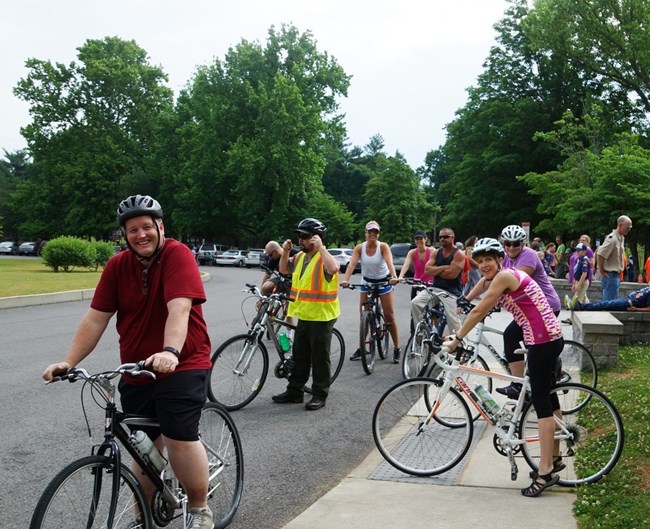 Stones River National Battlefield welcomes bicyclists to explore the park. The park allows bicycles, including electric bicycles (e-bikes), on all paved trails and roads. Bicycles are not allowed on unpaved trails or in the National Cemetery. The park has provided several bike racks around the Visitor Center for your convenience. The park is also connected to the Stones River Greenway, allowing visitors to visit most of the different units of the battlefield by bike.

If you choose to ride your bike in the park, please remember to:
Wear a helmet.
Ride with traffic when riding on a road.
Stay alert for vehicles and pedestrians.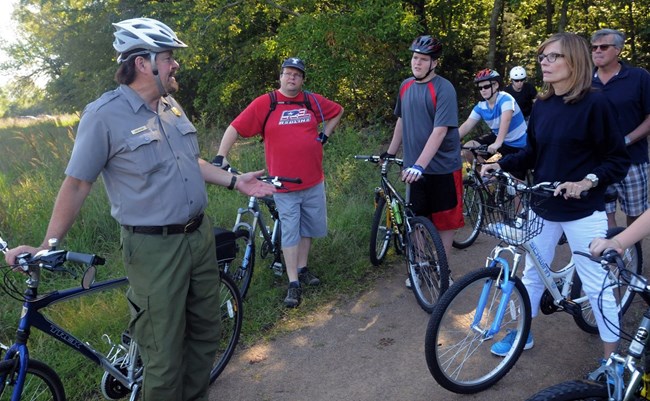 Bicycle Tours
Join a Park Ranger for a guided bicycle tour of Stones River National Battlefield. The park holds tours at least one Saturday every month from April through October at 9:00 AM.

You can find more information on the Ranger Programs page. Tour dates are posted on the Calendar.
Bicyclists are welcome to ride on the tour road in the direction of traffic. A trail connects the road to the Stones River Greenway at Tour Stop #1. Bicycles are not permitted on unpaved trails.
Go to our map page to see our our road and trail system.

BICYCLE TOURS
Join a ranger for guided bicycle tours of Stones River National Battlefield on select Saturdays in the spring and fall. Get healthy exercise, reduce your carbon footprint, and learn about the major Civil War battle that occurred here in late 1862 and early 1863. This program will take visitors through the battlefield using the tour road and the Stones River Greenway.

Visitors aged 16 and under must wear helmets. We encourage all participants to wear helmets and bring a water bottle. This is a 5-mile plus ride with a moderate pace and is not recommended for children under the age of 10.

The tour begins at the park visitor center. Check our calendar for tour dates.


Last updated: March 12, 2022