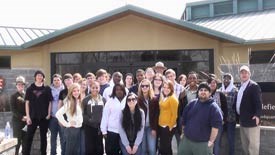 Stones River National Battlefield partnered with the McGavock High School Academy of Digital Design and Communication to develop short films about the battlefield. Students from the Broadcasting II class researched stories about the park, visited with their cameras, and edited short videos that told stories about Stones River National Battlefield.
"What better way to make history relevant to teenagers than to have teenagers research and present the history in a way they understand," said McGavock's broadcasting teacher Barclay Randall.
Students enjoyed visiting the battlefield and expressed their appreciation for the project. One student commented, "This partnership and the opportunities it has brought have been the highlight of my year." Another student said, "Thank you for letting us come and experience an unforgettable and truly inspiring place of history and adventure. You guys rule!"
The partnership with the Academy continues to expand. This year, teachers and park rangers have collaborated to create interdisciplinary lesson plans in order to show the students how each subject they learn in school supports the other subjects. The plans for fall 2011 include getting more students involved from other classes within the Academy. In addition to the films, the upcoming planned projects include painted landscapes from the art classes, photography prints from the photography classes, and audio clips for the park to use for the tours of the park.