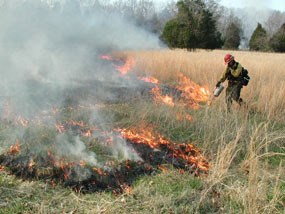 The staff at Stones River National Battlefield uses prescribed fire to manage our cultural landscapes by reducing the number of invasive exotic plants and creating opportunities for native species to spread throughout the park.
Some closures of park areas may be required during burn operations. These prescribed burns are a part of our Fire Management Plan, which we developed with public and professional participation in 2014.
Burns will be conducted only if weather conditions fall within a narrow range that provides for the greatest safety and best smoke management, and will result in natural resource improvements. Specially trained wildland firefighters from the Natchez Trace Parkway and Stones River National Battlefield will manage the prescribed burns.
The local news media, volunteer fire departments, and the City of Murfreesboro Fire and Police Departments will be notified prior to all burns. You can also follow us on Facebook and Twitter for updates on burn operations.
If you have any questions please call Gib Backlund, Chief of Operations at 615-893-9501 during business hours Monday through Friday.
Our next scheduled prescribed burn will occur on January 12-15, 2016.