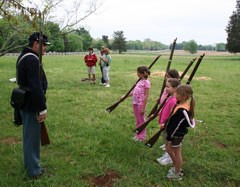 Every year students, and their families, from two area elementary schools will visit Stones River National Battlefield for the chance to learn about one of the most important battles of the American Civil War while discovering what our national parks have to offer families.
Park rangers will visit each school to help students and parents appreciate the myriad of unique resources and stories that make national parks a great place for families to learn and have fun together. Then the students and their families will board buses on a Saturday or Sunday to spend the day at the park participating in special activities and programs.
Each student will receive a Passport to Your National Parks that they can use to document their visits to parks across the nation and a copy of the park's Junior Ranger Program booklet.
Walmart and the Middle Tennessee Civil War Round Table generously provide lunch for the participants each day.
These programs are designed to engage teachers, families, and community groups in using the national parks as living classrooms and to encourage the public to re-connect with their national parks and other public lands.