The Union Approach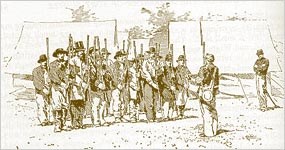 On December 26, 1862, the Union Army of the Cumberland left Nashville to engage Braxton Bragg's Army of Tennessee. General William S. Rosecrans sent the three wings of his army on different routes in search of the Rebel army.
Rain, sleet and fog combined with spirited resistance from Confederate cavalry slowed the Federal advance. By the evening of December 30, 1862 both armies faced each other in the fields and forests west and south of Murfreesboro.
During the night, Bragg and Rosecrans planned their attacks. Both chose to attack the right flank of the enemy and cut off their supply line and escape route. Bragg extended his lines to the south using all but General John C. Breckinridge's Division of General William Hardee's Corps. This movement of troops left only Breckinridge's men to face Rosecrans's planned onslaught on the east bank of the Stones River with General Thomas J. Crittenden's Left Wing.
While the generals planned, the men lay down in the mud and rocks trying to get some sleep. The bands of both armies played tunes to raise the men's spirits. It was during this "battle of the bands" that one of the most poignant moments of the war occurred. Sam Seay of the First Tennessee Infantry described what happened that evening.
"Just before 'tattoo' the military bands on each side began their evening music. The still winter night carried their strains to great distance. At every pause on our side, far away could be heard the military bands of the other. Finally one of them struck up 'Home Sweet Home.' As if by common consent, all other airs ceased, and the bands of both armies as far as the ear could reach, joined in the refrain. Who knows how many hearts were bold next day by reason of that air?"
Last updated: January 7, 2016