Turning the Union Right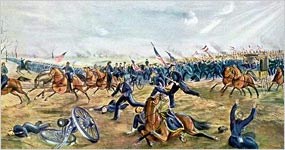 At dawn on December 31, 1862, General J. P. McCown's Division with General Patrick Cleburne's men in support stormed across the frosted fields to attack the Federal right flank. Their plan was to swing around the Union line in a right wheel and drive their enemy back to the Stones River while cutting off their main supply routes at the Nashville Pike and the Nashville & Chattanooga Railroad.
The men of General Richard Johnson's Division were cooking their meager breakfasts when the sudden crackle of the pickets' fire raised the alarm. The Confederate tide swept regiment after regiment from the field.
Lieutenant Tunnel of the Fourteenth Texas Infantry described the confusion.
"Many of the Yanks were either killed or retreated in their nightclothes … We found a caisson with the horses still attached lodged against a tree and other evidences of their confusion. The Yanks tried to make a stand whenever they could find shelter of any kind. All along our route we captured prisoners, who would take refuge behind houses, fences, logs, cedar bushes and in ravines."
Union artillery tried to hold its ground, but the butternut and gray wave swept over them. Federal commanders tried to halt and resist at every fence and tree line, but the Confederate attack was too powerful to stop against such a piecemeal defense.
Soon General Jefferson C. Davis's Division found itself caught between attacks from the front and the right. By 8:30 AM those units also began to fray and retreat to the north.
The ground itself helped stave off disaster. The rocky ground and cedar forests blunted the Confederate assault, and Rebel units began to come apart. Confederate artillery struggled to keep pace with the infantry. Still, the Army of the Cumberland's right flank was shattered beyond repair.
Last updated: April 14, 2015