Hell's Half Acre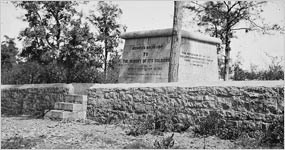 The Round Forest was a crucial position for the Army of the Cumberland. Poised between the Nashville Pike and the Stones River, the forest anchored the left of the Union line. Colonel William B. Hazen's Brigade was assigned this crucial sector.
At 10 AM, General James Chalmers' Mississippians advanced across the fields in front of Hazen's men. The partially burned Cowan house forced Chalmers' men to split just before they came a within range of the Union muskets. Artillery batteries guarded Hazen's flanks with deadly fire while the infantry poured volley after volley into the Confederate ranks. General Chalmers was wounded as his men wavered then broke.
Chalmers' attack was followed by General Daniel Donelson's Brigade as General Bragg sought to tie up Rosecrans' reserves pressing the Union left. Donelson's men crashed through Cruft's Brigade south of the pike. Hazen's men held firm to the north and Union reinforcements were able to seal the breach.
During the afternoon of December 31st, Bragg called on General Breckinridge's troops to hammer the anchor point of the Union line guarding the Nashville Pike. Two brigades went in first suffering the same fate as those that went before. Two more of Breckinridge's Brigades made a final assault as daylight began to fail. Hazen's men, reinforced now by Harker's Brigade, clung to their positions.
The carnage as described by J. Morgan Smith of the Thirty-second Alabama Infantry prompted soldiers to name the field Hell's Half Acre.
"We charged in fifty yards of them and had not the timely order of retreat been given — none of us would now be left to tell the tale. … Our regiment carries two hundred and eighty into action and came out with fifty eight."
Colonel Hazen's Brigade was the only Union unit not to retreat on the 31st. Their stand against four Confederate attacks gave Rosecrans a solid anchor for his Nashville Pike line that finally stopped the Confederate tide.
Hazen's men were so proud of their efforts in this area that they erected a monument there after the battle. The Hazen Brigade Monument is the oldest intact Civil War monument in the nation.
Last updated: April 14, 2015