Fortress Rosecrans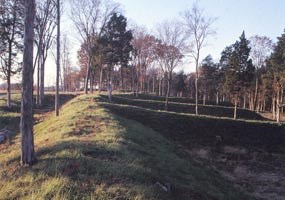 Shortly after the Battle of Stones River, the men of the Army of the Cumberland began building a massive fortification that was named after their commander, General William S. Rosecrans.
Designed by Brig. Gen. James St. Clair Morton, the earthworks of Fortress Rosecrans covered more than 200 acres and protected vital segments of the railroad and a multitude of warehouses that held supplies for the coming campaign.
Through most of 1863, Fortress Rosecrans served as a critical forward supply base for the Federals during their campaigns to seize and hold the vital rail junction town of Chattanooga, Tennessee.
Last updated: November 19, 2020