Defending the Nashville Pike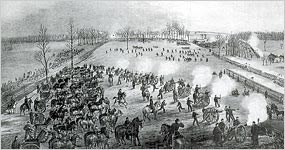 While the fighting raged in the Slaughter Pen, General Rosecrans was busy trying to save his army. He cancelled the attack across the river and funneled his reserve troops into the fight hoping to stem the bleeding on his right. Rosecrans and General George Thomas rallied fleeing troops as they approached the Nashville Pike and a new line began to form along that vital lifeline backed up by massed artillery.
The new horseshoe shaped line gave the Army of the Cumberland solid interior lines and better communication than their attackers. The Union cannon covered the long open fields between the cedars and the road. Most of the troops in this line had full cartridge boxes and knew that they must hold here or the battle would be lost.
Again the woods and rocky ground helped the Union. Confederate organization fell apart as they struggled through the cedars. Most of Confederate artillery was unable to penetrate the dense forests strewn with limestone outcroppings. Each wave of enemy attack along the pike was repulsed in bloody fashion by the Federal artillery that commanded the field.
Lietenant Alfred Pirtle (Ordnance Officer, Rousseau's Division) watched the cannon do their deadly work that afternnon.
"… then our batteries opened on them with a deafening unceasing fire, throwing twenty-four pounds of iron from each piece, across that small space. … But men were not born who could longer face that storm of canister. … They broke, they fled, and some took refuge in the clump of trees and weeds."
As night approached, the Union army was bloody and battered, but it retained control of the pike and its vital lifeline to Nashville. Although Confederate cavalry would wreak havoc on Union wagon trains, enough supplies got through to give General Rosecrans the option to continue the fight.
Last updated: April 14, 2015