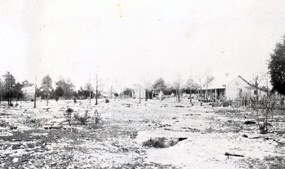 Saturday February 18, 2017 (9 AM - 12 PM) - Hallowed Grounds: Exploring the Cemetery Community
Following the Civil War, a Freedmen's community known as Cemetery emerged on the landscape where the Battle of Stones River had raged. Park rangers along with representatives of the African American Heritage Society of Rutherford County, the Friends of Stones River National Battlefield and Middle Tennessee State University will take educators to several sites where formerly enslaved people labored to overcome many challenges and forge new lives in freedom.
Workshop Schedule
9 AM - Welcome & Introduction
9:15 AM - Civil War to Civil Rights Museum Scavenger Hunt
- Educators will expolore the park's museum looking for exhibit materials that illustrate the struggle for African American freedom and equuality during the Civil War.
10 AM - Cemetery Community Tour
- Explore several Cemetery Community sites in and out of the park and hear the stories of residents spanning the 1860's to the present.
If teachers wish to earn an extra two hours of credit, they can attend a second public tour.
1 PM - Evergreen Graveyard Tour
- Ride with us to the Evergreen Graveyard where we will walk among the headstones and discover the rich tapestry of stories just waiting to be told on that hallowed ground.