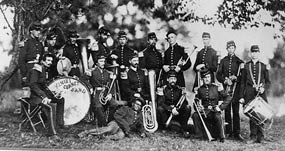 Saturday October 15, 2016 (9 AM to 1 PM) - Exploring the Past Through Music
Park rangers and volunteer performers will share ways of using music to engage students in the study of history.
Workshop Schedule
9 AM - Introduction
9:15 AM - Musical Museum Exploration
10 AM to Noon - Listen and Learn - Educators will listen to performances by living history musicians and discuss the role of music in military and civilian life during the Civil War.
12:15 PM - Stones River Songs - Educators will use the lyrics of songs written about the Battle of Stones River to explore the role music played in connecting the battle front to the home front.
To register for this workshop, call 615-893-9501 or
e-mail us
. Please include your name, school, grade level, home phone number and email.