Students Make History at Ellis Island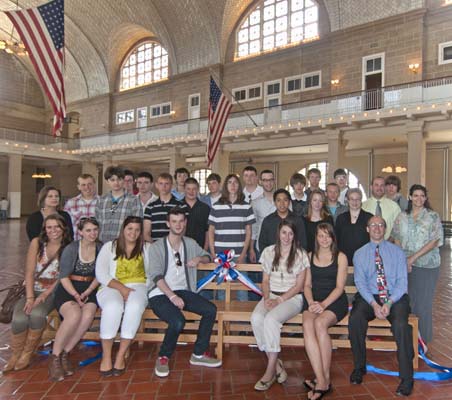 News Release Date:
May 20, 2011
Contact: Jane Ahern, 212-363-3206 x 106
The story of 12 million immigrants who came to the United States through Ellis Island in search of the "American Dream" began with them sitting on a bench in the Great Hall. It was a wait of a lifetime, to begin a new life. If they passed the mental and physical exams they would be able to start a new chapter in their lives in America.
That small but significant historical fact was brought back to life May 12, 2011 as high school students from upstate New York presented two replicas of those benches to Ellis Island. 
In 1990 when Ellis Island Immigration Museum opened, the National park Service began to rotate 18 original benches through the Great Hall. They were removed as wear and tear made them unsafe or to prevent further deterioration. Now, over 20 years later, only 8 are accessible to visitors.
Thanks to a creative collaboration between the NPS Distance Learning program and the GST BOCES Distance Learning Service, a classroom visit to Ellis Island, and a lot of intensive homework by the design and build students at Campbell-Savona High School, two new replicas now sit among the historic benches.
"The relatives of famous Americans like Bruce Springsteen and Yogi Berra sat upon the historic benches in the Great Hall," said Superintendent Dave Luchsinger. "Now future immigrants who are naturalized here at the park will be able to sit upon your benches. You are now a part of the history of Ellis Island and of the story of immigration."
As the ceremonial ribbons were cut to announce the benches were ready for visitors to test them out, applause echoed throughout the Great Hall. The crowd included key leads for the project; STLI Education Specialist Kathy Craine, New York's Greater Southern Tier Distance Learning Program Coordinator René Carver, Campbell-Savona Design/Build teacher Jesse Balliett, GST New Visions Media Instructor Rich Preston, and the group of students who designed and fabricated the benches.
The Greater Southern Tier's BOCES' New Visions Communication media class captured the project on film and were also on hand to premier their documentary in the theater on Ellis Island. The piece showcased the history of Ellis Island and showed that the class did much more than build pieces of furniture. One student learned that their own relatives had come through Ellis Island. "I didn't realize that I had family that had come through here until we started to work on this project," said Aaron Kish. "To think that they were once here, that was so great for me"
Volunteer in Park Leonore Hogg, relative of James Hogg who emmigrated from Scotland in 1923, shared her family history with the students and an image of her great-grandfather-in-law, holding a photo of his wife and child, waiting on the very same benches. "I call these benches 'Benches of Hope,'" Hogg recalled as she point to the picture. "Five generations of the Hogg family are here today because my relatives hoped for a new life in America." Ms. Hogg's family and the descendants of many other immigrants have woven their way into the fabric of American life. They have helped create the America we know today.
Today, visitors to the museum in the Great Hall on Ellis Island wait on those same benches, along with the two new ones, as they ponder the immigrant experience. Ranger Craine believes that this effort is just the beginning, "This started with a small concept, the teachers fleshed out the idea and these students made it happen. The National Park Service looks forward to replicating this project with the Greater Southern Tier Distance Learning Program and other schools the years to come."
See the project unfold on Flickr
Last updated: February 26, 2015