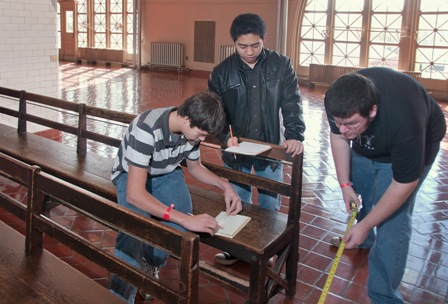 News Release Date:
January 1, 2011
Contact: Jane Ahern, 212-363.3206 x106
There was a distinct buzz in the air of the Great Hall on Ellis Island in November of 2010.
Six high school students closely scrutinized a few simple but sturdy wooden benches that once provided a resting place for immigrants waiting to be interviewed by officials on Ellis Island to see if they would be allowed to enter the United States. Curious visitors stopped to watch the busy teens some of whom rattled off numbers as others jotted down observations down, and a few took photographs of small details on each bench.
So, what was the buzz about the benches?
The "buzz" started a few months earlier when New York's Greater Southern Tier (GST) Distance Learning Coordinator Rene Carver was visiting Ellis Island and noticed the benches. "I happened to see a ranger and ask about the history of the benches," Carver said. "I was intrigued and immediately thought that there must be some way to have our students get involved in a project at the park."
That ranger was Ellis Island's Education Specialist and Distance Learning Coordinator Kathy Craine. "It was serendipity that we met that day," Craine observed. "We quickly realized that we were both in the distance learning field. He had students that he wanted to connect with history in a real and meaningful way and we had the history, the place."
Carver works with GST's Board of Cooperative Educational Services (BOCES) to provide school districts with a program of shared educational services. The BOCES program enables small rural school districts to combine their resources to provide services that are otherwise uneconomical or unavailable. A large percentage of BOCES programs are instructional technical programs for high school students in areas like carpentry, computer technology and visual communications.
Carver matched up BOCES teacher Jesse Balliett's design and build class with a project to replicate and build a series of three new benches. They would be designed and built to look just like the historic benches. "We thought it would be a great way to offer more seating to visitors, allow students to connect with Ellis Island and learn about immigration, and for them to hone their design, carpentry and building skills." Ranger Craine provided the pre-site distance learning materials so the class could learn about the history of Ellis Island and the role it played in early immigration to the United States.
Many of the students had never left their small rural hometowns before. "The building is a lot bigger than I thought it would be," said 15-year old Adam Taft. "It will be neat to someday come back to Ellis Island with my family and show them the benches we made." He also noted that he saw many senior citizens visiting the Great Hall and it was nice to think that they would have more places to sit and rest.
"This kind of project is wonderful because it exposes students who are not in the classroom to an important piece America's history. It allows them to become a part of that history," said Statue of Liberty National Monument and Ellis Island Chief of Interpretation, Education and Visitor Services, Daniel Brown. "The National Park Service needs people who are builders, woodcrafters and photographers. These students could be the next generation of National Park Service rangers."
Teacher Jesse Balliett explained that the students would now take their drawings and measurements back to the classroom. "They will design the benches using the same methods as when they were first designed over a hundred years ago the old fashioned way," Balliett said. "They will also make a second design using new AutoCAD technology, so they can compare the new and old methods of design."Once the final designs are completed, the students who are in the 'build' class will fabricate three new benches. The students plan to donate two of the completed benches to the National Park Service in the spring. The third will remain at the school enabling future students to connect in a tangible way to Ellis Island and its history, as well as be inspired by the work students at their school did for an international audience.
"We are going to keep tabs on how the students' work is coming along this winter and look forward to their return trip to Ellis Island next year," said Ranger Craine.
The NPS Distance Learning Program at Ellis Island allows students who cannot physically visit Ellis Island, to virtually see it and learn about American history. A digital video camera transmits live images of an NPS ranger to the classroom. Classes of 20 to 100 students can ask questions as they watch the ranger on a multimedia screen. The 40-minute interactive program combines historic images, videos, primary documents and objects and is facilitated by one of three park rangers. Last year, NPS rangers at Ellis Island reached out to 111 classrooms of more than 2,900 students.