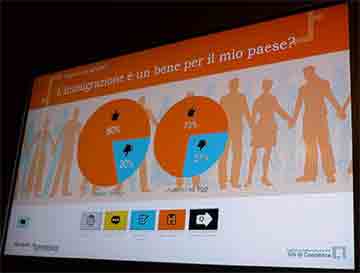 News Release Date:
November 23, 2011
Contact: Bix Gabriel, 646-755-6183
Ellis Island, NY/NJ — Is immigration good for my country? Is immigration good for my community? Is immigration good for me? Starting November 17, visitors to the Statue of Liberty National Monument and Ellis Island will have the chance to respond to these simple but provocative questions.
Navigating Difference, an interactive installation opening at three immigration-related Sites of Conscience – Ellis Island National Museum of Immigration (New York), Le Bois du Cazier (Charleroi) and Galata Museo del Mare - Mu.MA (Genoa) – invites visitors to respond to these questions and compare their responses to those gathered at every site. The installation launches November 17, 2011 and will remain open through early 2012. The project was coordinated by the International Coalition of Sites of Conscience and funded by Museums & Community Collaborations Abroad.
Navigating Difference aims to give fresh perspective to today's debates about immigration and migration taking place in the United States and Europe by doing two things: placing immigration within a historical context by sharing the stories of those who journeyed before, and providing a trans-Atlantic aspect to the immigration debates by allowing visitors to see how people in other countries feel about the same questions.
Interface of Navigating Difference shows what percentage of visitors voted "yes" or "no."

Developed by the International Coalition of Sites of Conscience and created by interactive design firm Blue Telescope, the installation features a touch-screen display and simple navigation system that allows users to answer each question and leave comments. They can review the responses of other users (see photo at right) and read their comments.


But the installation is the jump-off point for more. Each museum is also hosting community dialogues bringing together groups of people with differing perspectives on immigration to delve into why people immigrated then and now, and what their experiences can entail. What is the goal? To help visitors navigate the complexities of migration and inspire more informed public discourse about immigration today.
At the National Park Service's National Museum of Immigration on Ellis Island:
The National Park Service staff on Ellis Island, in partnership with Save Ellis Island, hosted students at New Jersey City University in a dialogue program where some students remembered their childhoods as new immigrants, while othersreflected on a very different upbringing, far removed from the contemporary immigrant experience. At the end of their dialogue series, the students voted in a mock election on pressing immigration questions such as whether immigrants should be required to take English language classes and pass English tests to become citizens.
"These types of programs are crucial because they allow students to discuss and learn about 'textbook' issues in very real and personal ways," said Statue of Liberty National Monument and Ellis Island Deputy Superintendent John Hnedak. "Ellis Island is the ideal location to foster conversations about immigration with our education and non-profit partners and the general public."
"Where are the public spaces for people today to talk openly and productively about immigration?" asks Elizabeth Silkes, Executive Director of the International Coalition of Sites of Conscience, a global network of museums that use history to inspire civic action today. "Sites like ours are today's new civic spaces because they use the past to invite reflection on the present, which enables a richer conversation - and hopefully, inspires constructive action."
Facilitating conversations about sensitive social issues by connecting past and present is the hallmark of the Sites of Conscience movement, which advances using open discussion as a tool for coming to terms with difficult histories and using the power of the past to engage people in making a difference in the present.
More about Navigating Difference: www.sitesofconscience.org/categories/activities/navigating-difference
Photos of Navigating Difference: www.flickr.com/groups/navigatingdifference
Facebook page: www.facebook.com/NavigatingDifference.
Funding for Navigating Difference was provided in part by the Museums & Communities Collaborations Abroad Program, which is made possible by the U.S. Department of State's Bureau of Educational and Cultural Affairs and administered by the American Association of Museums.
ABOUT THE PARTICIPANTS
International Coalition of Sites of Conscience
We are a worldwide network of "Sites of Conscience" – historic sites, museums and initiatives that activate the power of places of memory to engage the public with a deeper understanding of the past and inspire action to shape a just future. The Coalition provides member sites with direct funding for civic engagement programs, organizes learning exchanges ranging from one-on-one collaborations to international conferences, and conducts strategic advocacy for sites and the Sites of Conscience movement. Learn more at www.sitesofconscience.org.
Statue of Liberty National Monument and Ellis Island
Ellis Island was the United States' premier federal immigration station for over 60 years. From January 1, 1892 until 1954, the station processed some 12 million immigrant steamship passengers. After 30 years of abandonment, the island's Main Building was restored and, in 1990, opened as a museum operated by the National Park Service. Today, more than 40 percent of America's population can trace their ancestry through Ellis Island, and the National Museum of Immigration on Ellis Island exhibits focus on this shared history. Learn more at https://www.nps.gov/elis/index.htm.
Le Bois du Cazier
On August 8th, 1956, a fire spread through the Bois du Cazier coal mine in Marcinelle, Belgium, claiming the lives of 262 men of 12 different nationalities. More than half of the victims were immigrants from Italy, who filled the need for laborers in Belgium's economic heartland. The tragedy put an end to a decade-old worker treaty between Belgium and Italy and led to stricter safety regulations for coal miners across the nation. A visit to Le Bois du Cazier encourages visitors to question the costs and benefits of industrialization and to consider issues of workplace safety. The site also offers visitors the opportunity to reflect on the lives and contributions of immigrants in Belgium and the factors influencing immigration policy today. Learn more at http://www.leboisducazier.be/index_en.htm.
Galata Museo del Mare (Mu.Ma)
This maritime museum in Genoa, Italy focuses on the city's seafaring history, including its legacy as an emigration port. In the interactive exhibit "From Genoa to Ellis Island," visitors take on the roles of emigrants who left Italy for the Americas between 1892 and 1914. Armed with a passport and ticket, visitors walk in the shoes of thousands before as they prepare for the voyage, travel overseas, undergo screening at Ellis Island, and settle in New York City. This exhibit, a key step in building the planned Emigration Museum at Mu.MA, asks us to explore how immigration affects not only the destination nation but also the home country, both socially and economically. Learn more at http://www.galatamuseodelmare.it/jsp/index.jsp.