Springfield Armory Inspires the Greening of Springfield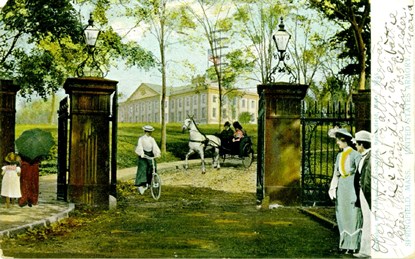 News Release Date:
May 6, 2014
Contact: Jennifer Zazo, (413) 271-3971
SPRINGFIELD, MA – Perhaps most residents of Springfield do not realize that two particular men, both of whom were employees of the Springfield Armory – Edward Ingersoll and Stanhope Blunt – were instrumental in the creation of the City's parks and open space. On Sunday, May 18, Springfield historian Frances Gagnon will introduce Armory leaders and workers responsible for many parks that enrich Springfield to this day. Meet in the museum theatre at 2:00 p.m. followed by a Ranger-led tour of the Armory's historic grounds. Admission is free.
With spring in the air, this is a perfect time to explore Springfield's rich heritage of treed boulevards and bright gardens which, in numerous cases, are associated with the Armory. Using images of historic Springfield and the Armory, Gagnon will show how Armory leaders transformed the landscapes of Springfield for the enjoyment of the public.
"This program is a perfect companion to the bi-weekly walking tours that started on site last month," stated Park Ranger Jennifer Zazo. "After historian Gagnon's presentation, visitors will walk the grounds and learn more about staff efforts to restore the key aspects of the Armory's landscape. It's a huge undertaking with noticeable successes."
Instrumental in the Greening of Springfield were the Armory commandants and superintendents in the 18th, 19th, and 20th centuries according to Gagnon, "Their impact was not just on the Armory but on the community at large. Armory leaders; Lee, Ripley, Benton, Blunt, and Ingersoll all helped shape the park-like grounds of Springfield Armory, the community, and the City. First Armory Superintendent, David Ames, as a surveyor, beautified his neighborhood with tree plantings and gardens."
In the mid-1800s, Armory Paymaster Edward Ingersoll helped shape Court Square, Maple Street, and "Ingersoll's Grove" at Worthington Street. Stanhope Blunt, Commandant of Springfield Armory from 1907 to 1912, directed the greening of Springfield when he became Springfield Park Commissioner. Through his actions, considerable park improvements and expansions were made that gave Springfield settings such as Blunt Park.
The Springfield Armory National Historic Site is the location of the nation's first armory (1794 – 1968) and was established by George Washington. The site includes historic grounds, buildings, and the world's largest historic American military firearms collection. The park is open daily from 9am – 5pm. There is ample parking and the building is wheelchair accessible. For further information and weather cancellations call 413-734-8551 or check the website at www.nps.gov/spar or www.facebook.com/sparnhs.
-NPS-
Last updated: February 26, 2015