Date:
March 29, 2011
Contact:
James Roberts
, (413) 734-8551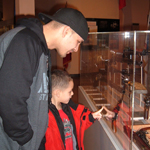 Springfield, MA. Saturday April 16 – Sunday, April 24, 2011. Bring yourself, your family and your friends to experience "a basket full of mysteries." Objects and photographs direct young people through the Museum exhibits or on an outdoors quest to reveal the secrets of the college buildings. Children can try on a Park Ranger uniform and then interview a National Park Service (NPS) Ranger. Visitors engage with Rangers to find out which NPS sites are near them. Prizes and good times await everyone. Free Admission.
Park Ranger Joanne M. Gangi-Wellman reminds us that "Out of the 394 National Park Service sites in the US, the Armory is a one of a kind gem. This week of fun is also a week of learning why the Armory is special, what a Jr. Ranger is, and finding out how black walnut shells relate to Armory firearms."
A special activity is planned for Saturday, April 23 to celebrate the 5th year of Junior Ranger Day. Young people will go with parents or older friends and use clue cards for the activity, "Getting to Know the Hillshops". At each stop they follow instructions, write a fact about the historic location and move on to the next place. Afterwards, the youth return to the Museum to claim their special Jr. Ranger Day prizes.
Springfield Armory National Historic Site commemorates and preserves the site of our Nation's first armory, established in 1794. Managed together with the Commonwealth of Massachusetts, Springfield Technical Community College and the National Park Service, the site holds many layers of history within its buildings and grounds. The site of the repulse of Shays' Rebellion, 1787; production of the nation's first interchangeable parts; and home of the world's largest historic American military firearms collection invites our visitors to share its history and beauty.
As a unit of the National Park Service, the Visitor Center, Museum, buildings and grounds are open daily, 9 a.m. – 5 p.m.  except Thanksgiving, Christmas and New Years Day. Admission is free. To browse our website, go to www.nps.gov/spar, or call us at: 413-734-8551.