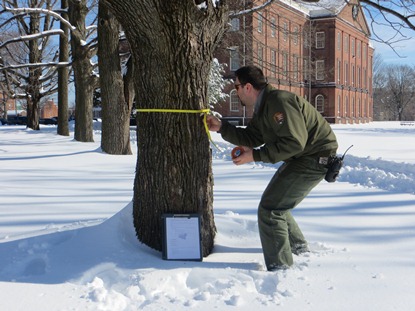 News Release Date:
April 16, 2014
Contact: Joanne Gangi-Wellman, (413) 734-8551
SPRINGFIELD, MA. Get introduced to engraving beetles, figure out what's making tunnels through the grass, and find out who's living in all those holes and cavities in the trees. On Sunday, May 4 at 2:00 visitors of all ages are invited to come explore the acres that comprise the Springfield Armory NHS. Surprises await you. Admission is free. 
Naturalist Patti Steinman from Massachusetts Audubon, and Chief of Interpretation, Joanne M. Gangi-Wellman, will meander through the grounds, stopping to listen, taste, feel and smell the natural wonders that live just outside the doors of the museum. Turning over logs along the way will reveal a world of centipedes, sow bugs and earthworms busily decomposing the wood. Learn some of the many trees on the grounds; black walnut, red maple, crab apple and more.  
When everyone stops to close their eyes and listen, the sounds, once hidden by the traffic, will move to the foreground; a screaming red-tail hawk and creaking tree branches or the wind rushing through the old hay field.Just as a fingerprint identifies a particular person, the plants and animals in an area tell us what kind of habitat we are examining and information about the species we discover. 
An extra benefit of the program is that visitors can bring home their experiences and new knowledge to explore habitats all around them.Chief of Interpretation, Joanne M. Gangi-Wellman commented, "In keeping with the National Park Service's initiative "Move Outside" visitors will be able to explore the historic landscape and the flora and fauna often hidden right under their noses. Springfield Armory NHS is well known for its firearms and yet it is also defined by its landscape. In order to become stewards of the land we must first immerse ourselves and become familiar with the unknown. Take a nature walk and be delighted."
Springfield Armory National Historic Site commemorates and preserves the site of our Nation's first armory, established in 1794. Managed with the Commonwealth of MA, Springfield Technical Community College and the National Park Service, it is the home of the world's largest historic American military firearms collection. The site is open daily, 9 AM - 5 PM. Admission is free. For information call 413-734-8551 or check www.nps.gov/spar.
-NPS-