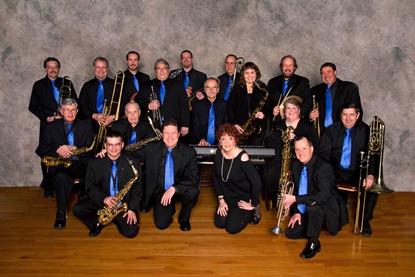 News Release Date:
June 19, 2013
Contact: Joanne Gangi-Wellman, (413) 348-4810
SPRINGFIELD, MA. Springfield Armory National Historic Site is proud to host its annual big band concert in honor of the historic 1943 Benny Goodman Armory show. Come ready to dance to the sweet sounds of Big Band saxophones on Saturday, July 13, 2013.Learn to swing dance with free lessons. Hear vocalists croon to songs that touch our hearts. Set up a blanket or lawn chair and bring a picnic supper on Saturday, July 13. Dance lessons begin at 5:30 pm and the concert is 6:30 pm to 8:30 pm. Admission is free.Inclement weather moves the concert indoors.
The talented Blue Skies Big Band, from western Massachusetts, is a nineteen piece swing orchestra that features both male and female vocalists, a full horn section and a full saxophone section. The band has been playing across New England for years and many players have more than 25 years of personal experience.The evening will begin at 5:30pm with free swing dance lessons led by Jitterbug School of Social Dance of Feeding Hills.Pre-concert and intermission shows will feature Springfield's Small Planet Dancers performing a special USO Tribute honoring "The Greatest Generation." The show includes production numbers from the1940's featuring Big Band and patriotic music.The 18 troupe members will perform in authentic costumes, including World War II Army and Navy uniforms and period dresses and hats.
The concert, which begins at 6:30pm, will be held behind the museum building. Bring a chair or blanket, enjoy picnic suppers, or purchase items from food vendors on site. Parking is free, and shuttle service will be available. In the case of rain, the concert will move into the gymnasium in Building 2 (Scibelli Hall) at Springfield Technical Community College. This concert is co-sponsored by Springfield Technical Community College and the Small Planet performance is made possible in part through a grant from the Springfield Cultural Council.
Springfield Armory National Historic Site commemorates and preserves the site of our Nation's first armory, established in 1794. Managed with the Commonwealth of MA, Springfield Technical Community College and the National Park Service, it is the home of the world's largest historic American military firearms collection. The site is open daily, 9 AM- 5 PM. Admission is free. For information call 413-734-8551 or check www.nps.gov/spar.
-NPS-