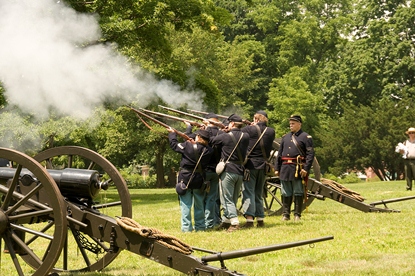 News Release Date:
May 21, 2014
Contact: Joanne Gangi-Wellman, (413) 734-8551
SPRINGFIELD, MA: Armory Day 2014 illuminates how Springfield Armory gave the American infantryman the weapons he needed. Military encampments of "living historians." portray Infantry from the War of 1812, Civil War, World War One, World War Two, the Korean and Viet Nam Wars. On Saturday, June 21 from 10:00 am to 4:30 pm visitors of all ages will find themselves dazzled by the blank firing of Civil War cannon and rifles, a spectacular performance of Civil War music and dances, and conversation with "soldiers" of historic infantry units. Food vendors will be available.All events are free. RAIN CANCELS.
"Armory Day is to experience the site and its history. Springfield Armory firearms manufacture was indispensable for over 170 years supplying the Army for every major War or conflict in US history from the War of 1812 to the Vietnam War," explained Joanne M. Gangi-Wellman, Chief of Interpretation at Springfield Armory NHS. "Further, the encampments and the music and dance offer a window into historic times."
Blank firing demonstrations remind us of the shock of war. Through two scheduled demonstrations at 10:30am and 3:00pm, you can see and smell the acrid gun smoke, hear the blasts of cannon and rifles, and wonder at the courage of soldiers serving yesterday and today.
At 12:30 pm, thanks in part to a grant from the Springfield Cultural Council; visitors may experience the merriment and excitement of a Civil War-era ballroom. The Victorian Quadrille Orchestra and twelve performers from the Small Planet Dancers, dressed in period costume, captivate us through music and dances like the Virginia Reel. Josephine Sarnelli, artistic director and choreographer for the troupe, added that "the program will include the Grand March in which members of the audience will be able to participate."
Pedestrians may enter the State Street gate or travel through the gate at the intersection of State and Byers Streets.Both gates are open 9:00 am to 5:00 pm.Parking is free of charge.
The Springfield Armory National Historic Site is the location of the nation's first armory (1794 – 1968) and was established by George Washington. The site includes historic grounds, buildings, and the world's largest historic American military firearms collection. The park is open daily from 9am – 5pm. There is ample parking and the building is wheelchair accessible. For further information and weather cancellation call (413) 734-8551 or check the website at www.nps.gov/spar or go to our www.facebook.com/sparnhs.
-NPS-