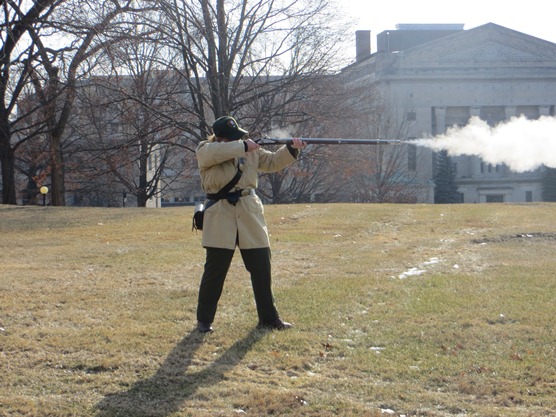 News Release Date:
March 29, 2014
Contact: Joanne Gangi, (413) 734-8551
SPRINGFIELD MA – Hear the deep BOOM of historic musket and rifle shooting and participate in Ranger-led tours of the Museum. Experience historic weapons demonstrations every other Saturday (weather permitting) at 1:00 pm. Museum Highlight Tours are scheduled every Saturday and Sunday at 11:00 am or 2:00 pm. Free Admission
Now, visitors can learn about Springfield Armory's historic weapons through the senses of sight, the sounds of rifles blasting, and the acrid smell of burning gun powder. National Park Service Volunteers and Rangers will describe and then fire reproductions of historic Springfield Armory weapons that include a flintlock musket, the percussion rifle musket, and the "Trapdoor" breech-loading rifle. Mark your calendars for April 5 & 19, May 3 & 17, June 7 & 21, July 5 & 19, August 2, 16 & 30, and Sept 13 & 27.
Also, starting Saturday, April 5, please join us, for a Ranger-led Highlight Tour each Saturday and Sunday at 11:00 am or 2:00 pm.Tours are fast-paced views of one targeted topic or object from the Armory's exhibits. Topics include, among others, Personalized Weapons, Mishaps, Women Ordnance Workers, The "Organ" of Muskets, The Birth of the Museum, and The Legacy of Springfield Armory Technology.
Park Historian and Historic Weapons Officer, Richard Colton remarked "Attending one of our blank-firings and seeing the Museum's exhibits, gives visitors an opportunity to glimpse the world experienced by the American infantryman and the Armory worker in centuries now past. We are pleased to bring visitors this program on a bi-weekly basis."
Springfield Armory National Historic Site commemorates and preserves the site of our Nation's first armory, established in 1794. As a unit of the National Park Service, the Visitor Center, Museum, buildings, and grounds are open daily, 9am – 5pm except Thanksgiving, Christmas, and New Years Day.Admission is free. To browse our website, go to www.nps.gov/spar, or call us at: 413-734-8551. Explore all of your National Parks at www.nps.gov
-NPS-