Date:
March 10, 2011
Contact:
James Roberts
, (413) 734-8551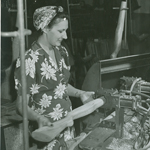 Springfield, MA.On Saturday March 26th at 1:30 pm, local historian, Ms. Frances Gagnon, and Park Ranger, Richard Colton celebrate The Springfield Armory WOWs, the Women Ordnance Workers of WWI and WWII at Springfield Armory National Historic Site. Dozens of historic, archival photographs of those proud, talented and essential women illustrate their contributions to the Armory during wartime, weaving together images and stories of many dedicated Women Ordnance Workers, who labored and problem solved as inspectors, machinists and laborers, breaking through stereotypes to serve our country and to earn a decent wage.Admission is free.
Ms. Gagnon and Mr. Colton recreate that time at Springfield Armory, when women filled the shoes of men who left for wartime military service.They shaped, assembled and finished steel and wooden rifle components, inspecting and packing Springfield rifles for shipping. In World War I, fully 15% of the workers were women, increasing in World War II to over 42%.
Visitors will view historic images of the future First Lady, Nancy Reagan, who entertained and motivated workers in a stage performance at the Armory, while she studied at Smith College. Ms. Gagnon stated:"In today's Springfield, there is not nearly enough known about the role of the Armory in daily life, and less is commonly known today about the important role of women in production in WWI and WWII than should be."
Springfield Armory National Historic Site is where our Nation's first Armory (1794-1968) was established by George Washington. The site includes historic grounds, buildings, the world's largest historic American military firearms collection and the setting where Shays' Rebellion was repulsed in 1787, spurring our Constitution into enactment. Managed together with the Commonwealth of Massachusetts, Springfield Technical Community College, and the National Park Service, the site holds many layers of history within its buildings and grounds. Then Armory Museum is open daily 9:00 am – 5:00 pm except Thanksgiving, Christmas, and New Years Day.Admission is free.To browse the museum collections go to www.nps.gov/spar.