Date:
May 9, 2011
Contact:
Shera Cohen
, (413) 271-3982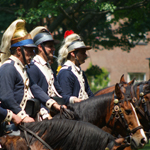 SPRINGFIELD: The 2nd Continental Dragoons Cavalry, the first official cavalry unit of the United States, dates back to the Revolutionary War. A dozen members of today's Dragoons, which include four horsemen, will be one of the important components of Armory Day, Saturday, May 14th from 1pm – 5pm. The formal cavalry riding demonstration will take place at 3pm. Both man and horse will be donned with opulent uniforms and accoutrements, respectively, which are 95% accurate to those used in 1997.
Armory Day is the annual celebration of the Springfield Armory National Historic Site's history. Spirit of Springfield, organizers of Springfield's 375th Anniversary, selected the Armory as the site of the May 14th afternoon activities.
All Armory Day events are free and will take place on May 14th from 1pm – 5pm, following the City of Springfield's 375th Anniversary Pancake Breakfast and Parade. In addition to encampments from the Revolutionary War to the Vietnam War, other activities include Armory Day opening ceremonies, cavalry demonstrations, historic weapons and cannon firing, and indoor museum tours.
Springfield Armory National Historic Site commemorates and preserves the site of our Nation's first armory, established in 1794. Managed together with the Commonwealth of MA, Springfield Technical Community College and the National Park Service, the site holds many layers of history within its buildings and grounds. The site of the repulse of Shays' Rebellion, 1787; production of the nation's first interchangeable parts; and home of the world's largest historic American military firearms collection invites our visitors to share its history and beauty. As a unit of the National Park Service, the Visitor Center, Museum, buildings and grounds are open daily, 9am-5pm except Thanksgiving, Christmas and New Years Day. Admission is free. Contact telephone number is (413) 734-8551. Our website is www.nps.gov/spar.
-NPS-