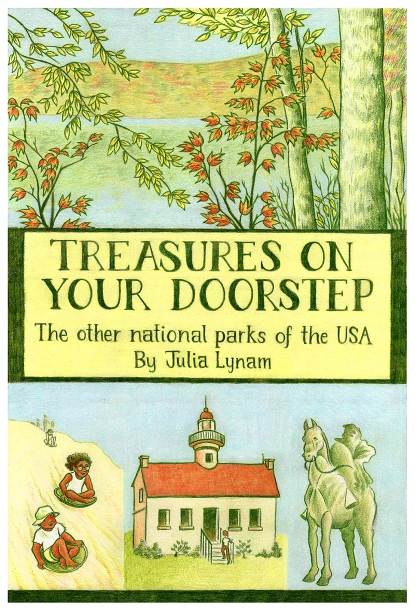 News Release Date:
April 5, 2014
Contact: Joanne Gangi-Wellman, (413) 734-8551
SPRINGFIELD, MA. Visit Springfield Armory NHS and discover the 401 National Parks across the United States.  Join us for National Park and School Vacation Weeks from Sunday, April 20 to Saturday, April 26, 2014.  Surprising activities await you.  Watch National Parks films, make a Steampunk creation, and hear the author of Treasures on Your Doorstep, about the hidden gems of the National Park Service. Admission is free.
Delight in a powerpoint program on Thursday, April 24, at 2:00pm by Julia Lynam, author of Treasures on Your Doorstep. Through her book one learns about the lesser known gems of National Parks and she will entice us to visit them in the near future. Author and former park ranger, Lynam, will take us on her personal journey to discover these National Park Service treasures. A book signing will follow the program.
All week a special treat awaits visitors - an opportunity to make a steampunk collage.  Using collage as a medium to repurpose a variety of "mixed paper parts and gadgets," visitors can build imaginary steampunk creations to illustrate what people would have brought to battle, how they would have dressed, what they would have looked like, or even what contraptions they would have used to time travel. There are endless possibilities with no limitations. Let your imagination soar! 
Chief of Visitor Services, Joanne M. Gangi-Wellman commented, "Celebrating National Park and School Vacation weeks this year will be one of our best years. Why?  Because not only are we offering a peak into fabulous historic sites, our current steampunk exhibit is going to inspire new art forms; steampunk collages! Through art and stories Springfield Armory NHS will expand and reach out to new audiences."
Springfield Armory National Historic Site commemorates and preserves the site of our Nation's first armory, established in 1794. Managed with the Commonwealth of MA, Springfield Technical Community College and the National Park Service, it is the home of the world's largest historic American military firearms collection. The site is open daily,9 AM- 5 PM.
Admission is free. For information call 413-734-8551 or check www.nps.gov/spar.
-NPS-