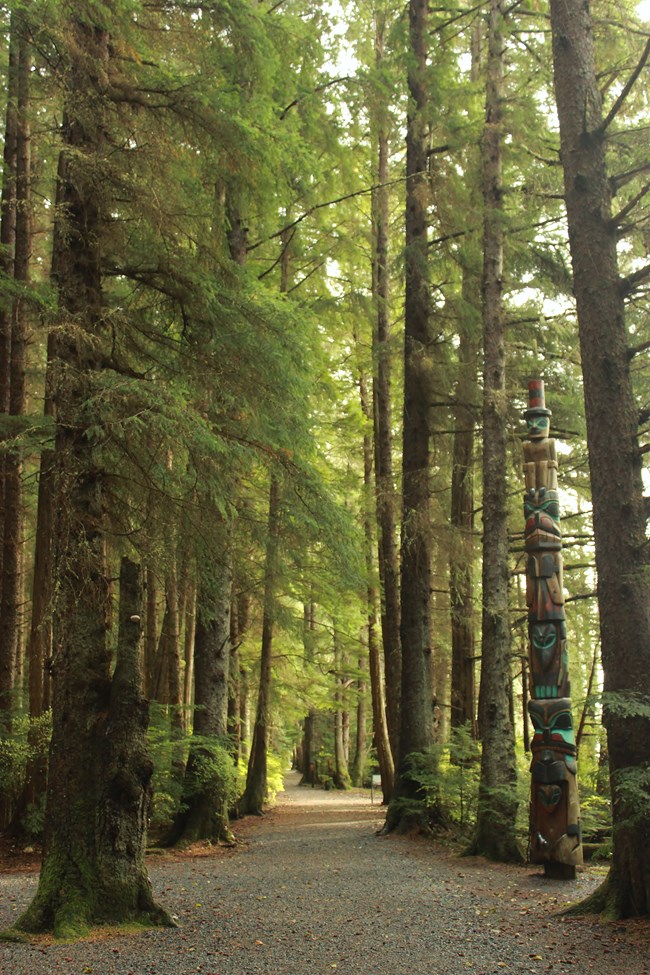 Sitka National Historical Park- the Totem Trail and the Russian Memorial Loop- 1.6 miles
One of the nicest walks in town is right outside the door at the Sitka National Historical Park Visitor Center. The park features two loop trails connected by a footbridge spanning the Indian River, for a total of 1.6 miles. Walkers will experience classic Southeast Alaskan temperate rain forest characterized by towering Sitka Spruce and Western hemlock trees and lush, green ground cover punctuated by beautiful vistas of Sitka Sound and the intertidal zone.
This parcel of land is of immense historical significance to Alaska. The Battle of Sitka was fought here, which culminated in the Native Tlingit temporarily withdrawing from the area. This allowed the Russian colonists to establish the settlement that would be the headquarters of their American empire, and later became Sitka. This battleground is commemorated at the mouth of the Indian River with a totem pole honoring K'alyaan, the warrior who led Kik.adi forces in battle.
The Totem Trail and the adjacent grounds outside the Visitor Center feature 18 repliaca and original totem poles carved by Alaska Native carvers. To learn more about the poles, join a ranger-led talk, or call the number posted on the back of the poles to listen to the self-guided cell phone tour.
The trail has a broad, gravel surface and minimal elevation change, and is appropriate for all hikers. Dogs must be leashed.