Demonstrating Artists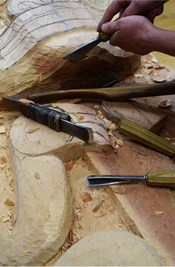 Due to Covid-19 there will be no Demonstrating Artists in the Visitor Center at this time. We apologize for the inconvenience.
From towering totem poles, to elaborate beaded regalia and intricately carved metal jewelry, the material culture of southeast Alaska is some of the most iconic throughout the entire nation. Carving, weaving, beading and metal work are long held traditions within Tlingit and Haida cultures. While some of the tools have changed over time, the processes and skills required have remained the same. Traditional Alaska Native art forms are experiencing a resurgence, as more young artists are able to pursue learning the age-old traditions and techniques of their cultures.
Seeing totem poles or beaded regalia while in Alaska is an amazing experience - to learn about them from the artists themselves is something much more unique. Sitka National Historical Park partners with the Sitka Tribe of Alaska to recruit artists in numerous mediums to demonstrate their craft. Most days during the summer, guests can come to watch and learn about the various artforms by the artists themselves. Sitka National Historical Park has three art studios devoted to the Demonstrating Artists program: a wood working studio, a beading and textile studio, and a metal engraving studio. Some of the artists demonstrating in the studios are considered masters of their craft, with their work displayed in museums and galleries around the world and they have been demonstrating here at the park for decades.
Last updated: June 10, 2021