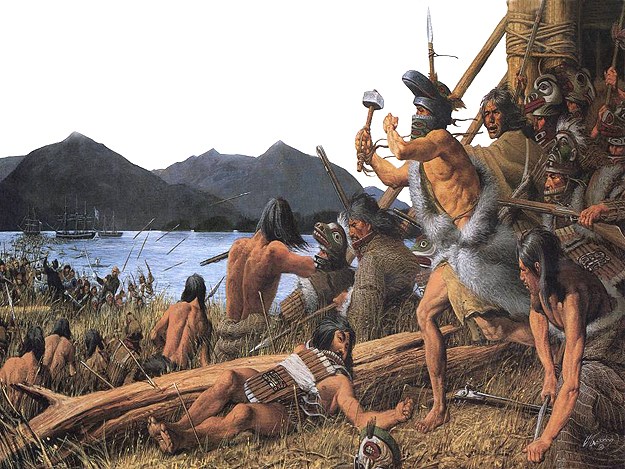 After the Battle of Old Sitka in 1802, the Tlingit clan house leaders debated their next move. Some advised caution and diplomacy. Others advocated rallying clans from across Southeast Alaska to go on the offensive and attack Russian settlements in Yakutat and Prince William Sound. According to oral tradition, the respected tribal Shaman Stoonookw foresaw the return of Alexander Baranov in a vision. Stoonookw urged the clan leaders to unite and build a new fort in a defensible location. According to tradition, the Sitka Tlingit rallied around their clan leaders. But, heeding Stoonookw's advice, they also decided to unite under a single war chief. They selected K'alyáan, the Point House aristocrat who had proven his bravery in the Battle of 1802.
K
'alyáan also heeded Stoonookw's prophetic vision and rallied the clans to construct a fort, subsequently named
Shís'gi Noow,
at the mouth of the Indian River.
Shís'gi Noow
means Sapling Fort, Second Growth Fort, or Green Wood Fort in English. They constructed the fort adjacent to shallow tidelands to prevent the Russians from moving their ship-based artillery near the fort's walls, effectively neutralizing its military advantage. The Sitka clan's previous fort at
Noow Tlein
(on what is known today as Castle Hill) was vulnerable to ship-based cannon fire.