Shiloh 150th Anniversary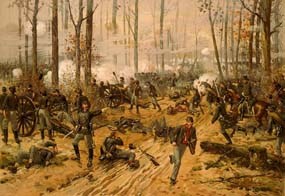 Shiloh Visitor Center Hours of Operation: March 30 - April 8, 2012

Friday, March 30: 8:00 am - 7:00 pm
Saturday, March 31: 7:00 am - 7:00 pm
Sunday, April 1: 7:00 am - 7:00 pm
Monday, April 2: 8:00 am - 7:00 pm
Tuesday, April 3: 8:00 am - 5:00 pm
Wednesday, April 4: 8:00 am - 5:00 pm
Thursday, April 5: 8:00 am - 7:00 pm
Friday, April 6: 7:00 am - 7:00 pm
Saturday, April 7: 7:00 am - 6:00 pm
Sunday, April 8: 8:00 am - 5:00 pm

Corinth Civil War Interpretive Center Hours of Operation: March 30 - April 1, 2012

Friday, March 30: 8:00 am - 7:00 pm
Saturday, March 31: 7:00 am - 7:00 pm
Sunday, April 1: 7:00 am - 7:00 pm

April 4, 2012 - Premier of Shiloh Film "Shiloh - Fiery Trial"

The public is invited to join the park staff, cast, and filmakers for the premier of the new Shiloh film. The event will take place at Pickwick Landing State Park with a reception at 6:00 pm and a showing of the film at 7:00 pm. Following the film there will be a question and answer session with director Chris Wheeler and Chief Ranger Stacy Allen. For more information go to http://www.tnvacation.com/civil-war/

April 5-8, 2012 - 150th Anniversary Battlefield Hikes
Join us for four days of in-depth ranger led battlefield hikes. Click here for a schedule of hikes.

April 5, 2012 - Ranger Led Interpretive Programs

A variety of 30-minute ranger led interpretive programs will be offered throughout the day. Schedule of programs TBA.

April 5, 2012 - Special Evening Program: "Women in the Ranks"

Joyce Henry, an expert on women in the Civil War, will present a one hour lecture on women fighting in the ranks during the war. The program will take place at 7:00 pm at the Shiloh
Visitor Center and is free and open to the public.


April 5, 6, and 7, 2012 - Car Caravan Tours

In commemoration of the Sesquicentennial, local tour guide, Jimmy Whittington, will be leading car caravan tours around Shiloh Battlefield on April 5, 6, and 7. These tours will take visitors to the high points of the battlefield in order to explain the Battle of Shiloh. The tours will be 2 ½ hours in length and depart from the Visitor Center each day at 8:30 am, 11:30 am, and 2:30 pm. It is recommended that participants register in advance for these free car caravan tours.

April 6, 2012 - Bobby Horton Performs at Shiloh Visitor Center

Acclaimed Civil War musician and composer Bobby Horton will perform live at the Shiloh Battlefield Visitor Center. The program will begin at 7:00 pm and is free and open to the
public. Mr. Horton has been performing since 1984, and has
released 14 volumes of Civil War music on CD. He has also produced and performed
music scores for thirteen PBS films and sixteen films for the National Park Service, including
the new Shiloh movie "Shiloh - Fiery Trial."

April 6, 7, and 8, 2012 - 14th Missouri Infantry Exhibit

A display featuring artifacts relating to the 14th Missouri Infantry (later the 66th Illinois Infantry), part of McArthur's Brigade at the Battle of Shiloh. Exhibit will include images, letters, post war memorabilia
and an original Dimick Rifle which was an early trademark of this unit.
Exhibit will be viewable in the Visitor Center during operating hours on Friday, Saturday and Sunday.

April 7, 2012 - Shiloh's Grand Illumination

In commemoration of the 150th anniversary of the bloody Battle of Shiloh, the park will be presenting a "Grand Illumination" on the evening of April 7. Luminaries will be placed around the battlefield representing the 23,746 casualties of the terrible fight. The illumination will begin at dusk and run until about 10:00 pm. (In the event of rain or severe weather, the Grand Illumination will be rescheduled for Saturday, April 14)

April 6, 7, and 8, 2012 - The New Park Film "Shiloh - Fiery Trial" Begins Regular Showings

The film will begin showings at 7:00 am on Friday morning in the park Visitor Center.



---


You can also find Shiloh on these social media sites...

Facebook: www.facebook.com/ShilohNMP
Twitter: www.twitter.com/ShilohNPS
Flickr: www.flickr.com/photos/ShilohNPS1862
YouTube: www.youtube.com/ShilohNPS1862




---


Please Note: Shiloh National Military Park is not involved with nor endorses either of the two Shiloh 150th reenactments planned for March 30 thru April 1, 2012

Reenactments are not allowed on NPS grounds. For information on these Shiloh 150th reenactment events you must go to the individual reenactment websites at:

www.shiloh150.org and www.shiloh150th.com

Click here to see why reenactments are prohibited on National Park Service lands. Below is a list of Sesquicentennial events occurring at Shiloh National Military Park.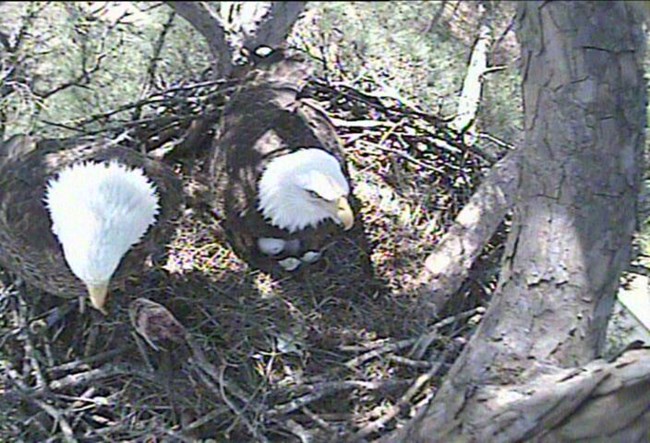 Bald Eagle Program
The bald eagle interpretive program will be presented on Sunday, April 8th at 6:00 p.m. at the Shiloh Battlefield Visitor Center. The program will begin with a presentation highlighting the life cycle, behavior, and rich history of the bird. It will then move outdoors to Cloud Field in order to observe the nesting pair as well as this year's eaglet. The program will last approximately one and one-half hours.
For more information or to register in advance, please contact the Shiloh Battlefield at (731) 689-5696. Severe weather conditions will cancel the outdoor portion of the activity.
---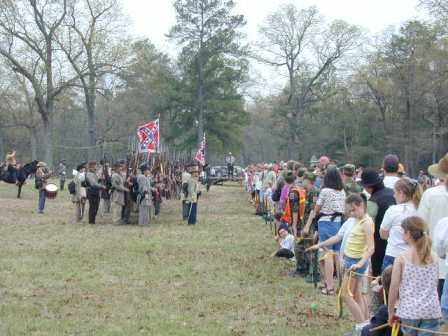 Last updated: April 14, 2015