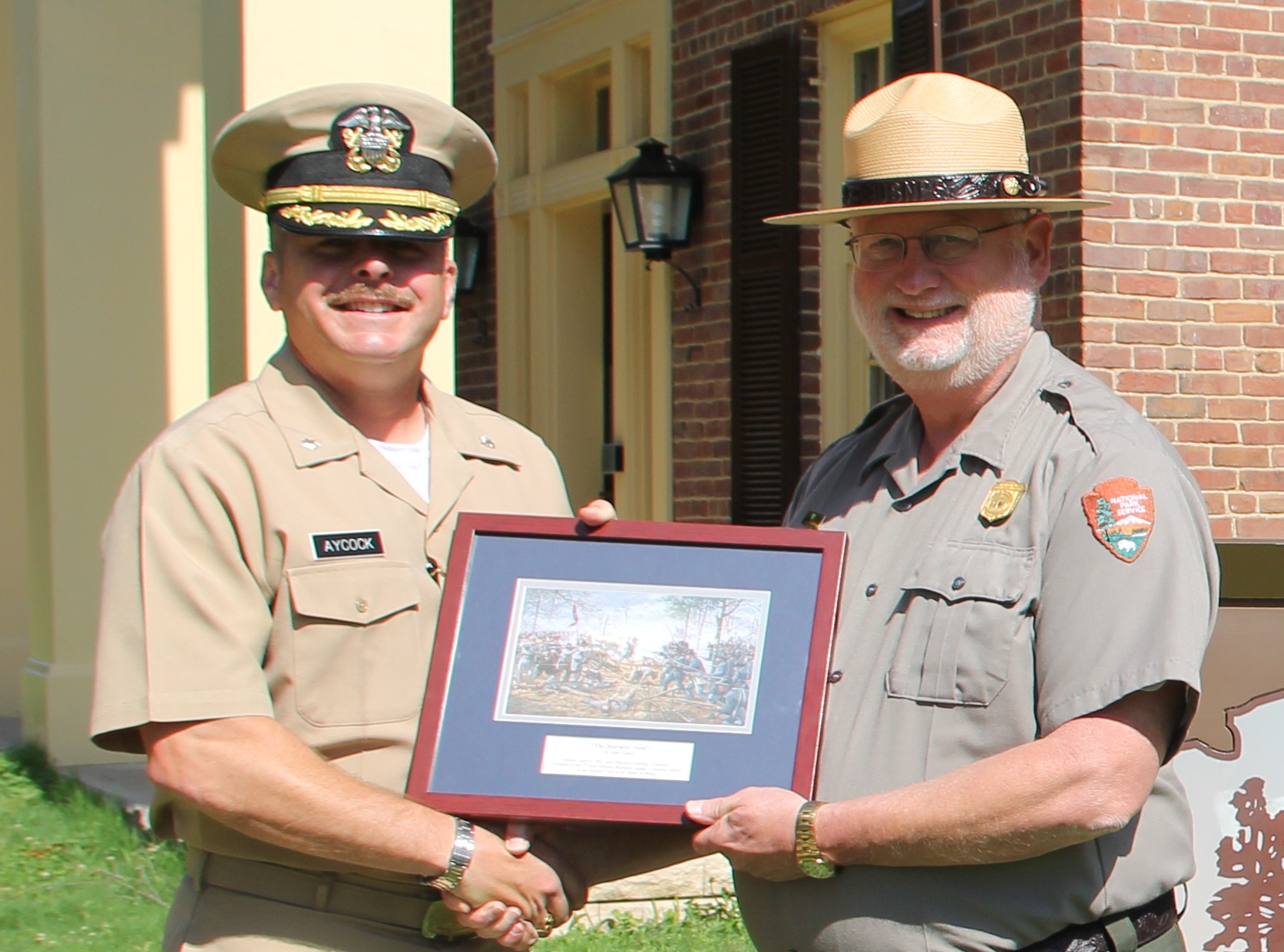 News Release Date:
June 23, 2015
Contact: Chris Mekow, 731-689-5696
On June 4, 2015, the newly selected Captain of the USS SHILOH visited Shiloh National Military Park.Commander Adam Aycock was joined by his family in a visit to the park prior to his deployment to Japan to assume command of the ship.
The USS SHILOH, a Ticonderoga class guided-missile cruiser, is named for the Battle of Shiloh, and is forward deployed to Yokosuka, Japan.The ship and her crew of 33 officers, 27 Chief Petty Officers, and approximately 340 enlisted, is on patrol in the U.S. 7th Fleet area in support of operations in the Indo-Asia Pacific region.
Park Superintendent Dale Wilkerson welcomed Commander Aycock to the park, and presented him with a commemorative framed print by artist Dale Gallon, depicting elements of the 8th Iowa Infantry Regiment engaging Louisiana soldiers in the Hornet's Nest at the Battle of Shiloh.The ship's mascot is the Hornet, taken from this very engagement.
"In 2016 the National Park Service will be celebrating its 100th anniversary, and we are working to connect a new generation of park visitors, advocates and stewards with all of the national parks.One of our goals has been to establish a connection with the crew of the ship, and we were very excited to have the Captain visit the park," said Wilkerson.He continued, "Frankly, the young sailors aboard the USS SHILOH represent the finest our nation has to offer, and we are proud to work together with the U.S. Navy to connect with the officers and crew."
Commander Aycock said, "I am a proud Tennessee native, hailing from Warren County, and I am pleased that my family and I had the opportunity to visit the battlefield before we leave the country for 2 years.Along with the anniversary of the Park Service, the USS SHILOH will have 26 years of commissioned service next year.So, there is a great deal to commemorate, and I think you will find as we strengthen the bond between the crew and the ship's namesake that you'll find no better group of Americans.We will display this artwork proudly on the ship."
As both the park and the ship work together, joint projects under consideration include establishment of a lending library, connecting through social media, and working toward holding periodic video conferences with the ship, where the park may provide interpretive presentations to crew members.
Shiloh National Military Park was established to preserve the scene of the first major battle in the Western theater of the Civil War. The two-day battle, April 6 and 7, 1862, involved about 65,000 Union and 44,000 Confederate troops, and resulted in 23,746 killed, wounded, or missing.The Park contains about 5,000 acres of the Shiloh battlefield, an interpretive center at Corinth, Mississippi, Shiloh National Cemetery, and the Shiloh Indian Mounds National Historic Landmark.