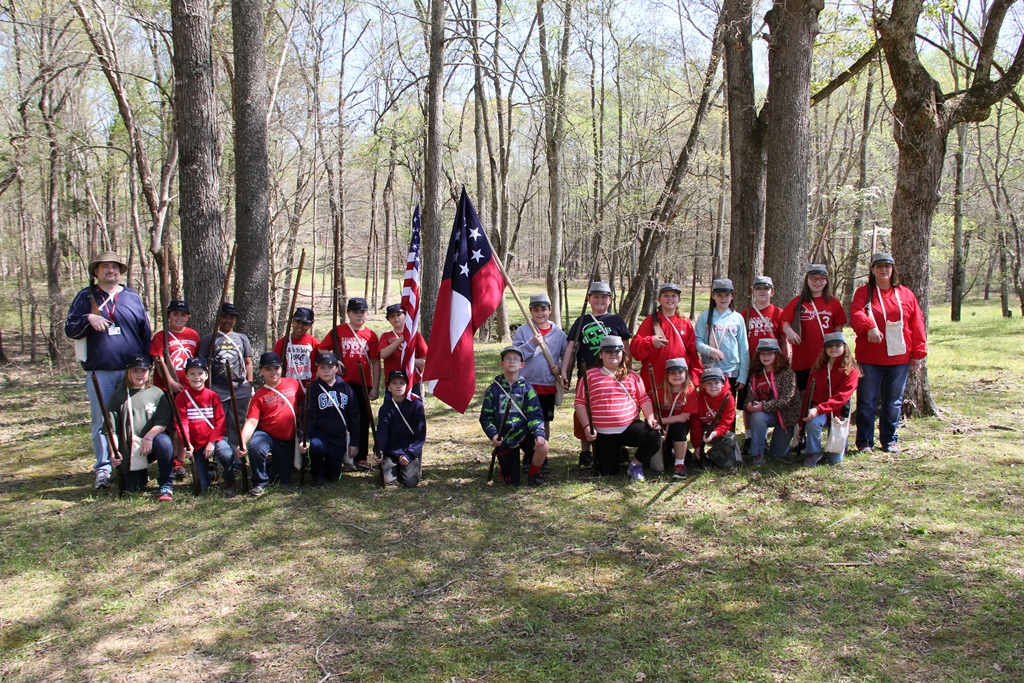 News Release Date:
January 4, 2017
Contact: Heather Henson, 731-689-5696
Contact: Chris Mekow, 731-689-5696
As part of the President's Centennial Initiative: 'Every Kid in a Park,' Shiloh rangers and volunteers presented 86 programs to 1,806 fourth grade students over a 20 day period in the Spring and Fall of 2016. Programs included a Civil War era "Camp of Instruction," and the exploration of Shiloh's Native American past. All programs were presented on site and allowed the children to spend the majority of their trip outdoors. 
The Civil War Camp of Instruction introduced students to the battlefield as they learned how young Americans in the 1860s, went from Citizen to Soldier. Each student began the day by enlisting in the Union or Confederate Armies and were given the identity of a soldier who actually fought in the battle. They participated in several hands-on activities including learning how the soldiers drilled and marched, what the drum calls meant, and playing games that 19th century Americans played. A catered lunch emulated the food a soldier in camp might have eaten. The Camp of Instruction: Citizen to Soldier program ended with each student learning the fate of the soldier they were portraying, thus bringing home the cost of war and the importance of preserving Shiloh National Military Park as a memorial to those men.  
Other students were introduced to the Native American history of Shiloh, and the Shiloh Indian Mounds National Historical Site. Again, all programs were given on site allowing the students to spend most of the day outdoors. The children learned the games that the pre-historic peoples played, their day-to-day activities, and how these people survived. They then explored the remains of the ancient Indian village before moving to the Tennessee River Museum in Savannah, Tennessee, and being introduced to their artifact collection.  
Every fourth grade class from the counties of Hardin and McNairy in Tennessee, Alcorn County, Mississippi, and the Corinth, Mississippi city schools, participated in the learning experience. The programs would not have been possible without a generous Every Kid in a Park grant from the National Park Foundation, our park partners at the Tennessee River Museum, and the many hours of service from Shiloh's dedicated volunteer corps.