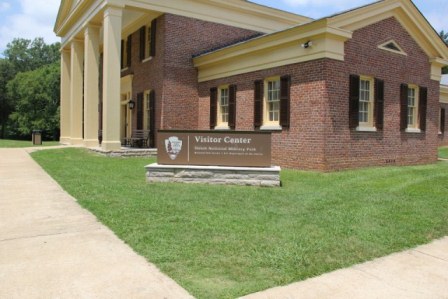 News Release Date:
October 20, 2014
Contact: Chris Mekow, 731-689-5696
The National Park Service Visitor Center located at Shiloh Battlefield is scheduled to undergo construction work to remove old tile flooring and carpet throughout the entire 79-year old building, and replace it with new tile and carpeting. "This necessary construction work will require the park to shift daily visitor services to a temporary facility," states Tyrone Brandyburg, Acting Superintendent of Shiloh National Military Park. "This work, scheduled to start the week of October 27th, will take at least two, maybe three, weeks to perform," advises Brandyburg. During this period, visitors to the battlefield will view the film, Shiloh: Fiery Trial, inside a temporary tent erected adjacent to park bookstore;and park rangers will greet and serve visitors from the same sheltered location. The film will be shown on the hour, from 9 a.m. to 3 p.m. daily.
"We're excited to have the opportunity to upgrade the worn floor surfaces in the old visitor center," states Brandyburg, "but, understand that this work will necessarily alter our daily operations."Historically, park administrative history records that the initial park staff worked out of tents during the early years of the park, from 1895 until a permanent administrative building was finally constructed in 1911.
"The current mild fall weather will hopefully make this unique temporary experience quite pleasant," remarks Brandyburg. Visitor service operations at the park, which manages Civil War battlefield sites in both West Tennessee and North Mississippi, as well as the Shiloh Indian Mounds National Historic Landmark, are conducted daily from 8 a.m. –5 p.m. For more information about the scheduled temporary change required to conduct daily visitor services at Shiloh Battlefield, or obtain further information about the park, please phone 731-689-5275, visit the park website at www.nps.gov/shil, or friend us on Facebook at www.facebook.com/ShilohNMP.