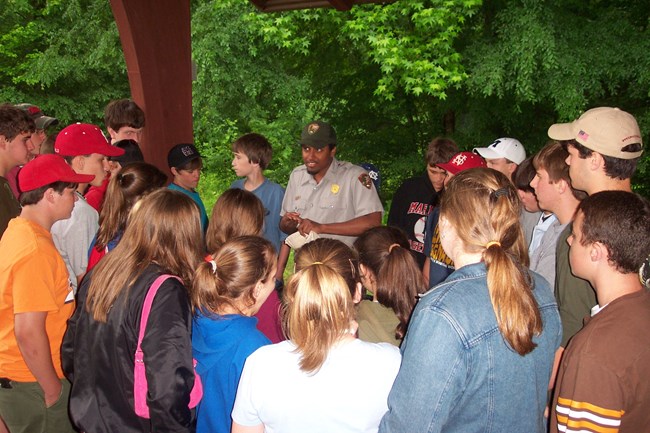 Shiloh National Military Park hosts a program each May entitled "School Days in May." Dates for the 2010 program are May 4th (Tuesday), May 5th (Wednesday), and May 6th (Thursday).
Park Rangers will offer 5 stations, with each station offering a different topic. The schools will visit each station, receiving new interpretive information on various topics. The program topics range from historical to natural. Each program will last 15 minutes. Teachers should plan one hour and fifteen minutes to complete all interpretive stations. The topics are designed to provide students with a chance to gain interest in the various subject areas and to learn more about the Civil War and Shiloh National Military Park.
To participate in "School Days in May," reservations must be made in advance. The number of participants are limited for the three day program. Programs are designed primarily for third through sixth grades, however can be adapted for higher grades. All programs are based on a specific time schedule, therefore a school arriving late will have their programs adjusted to accommodate their remaining scheduled time.
In order to reserve a date and time, the school teacher must contact Park Ranger Joe Davis at 731-689-5696.
The time frames for the programs (Please have two choices available)
(1) 8:30 a.m. thru 9:45 a.m.
(2) 10:00 a.m. thru 11:15 a.m.
(3) 11:30 a.m. thru 12:45 p.m.
(4) 1:00 p.m. thru 2:15 p.m.