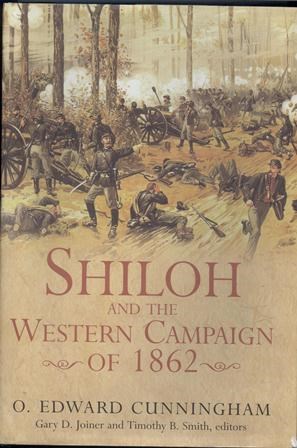 Allen, Stacy D. "Shiloh," Blue and Gray Magazine (Sesquicentennial Edition 2010).

Allen, Stacy D. "Corinth, Mississippi: Crossroads of the Western Confederacy," Blue and Gray Magazine 19, 6 (August 2002) 6-64.

Cozzens, Peter, The Darkest Days of the War: The Battles of Iuka and Corinth, Chapel Hill: U of North Carolina Press, 1997.

Cunningham, O. Edward, Shiloh and the Western Campaign of 1862, eds. Gary D. Joiner and Timothy B. Smith. New York: Savas, 2007.

Smith, Timothy B. Corinth 1862, Lawrence, KS: UP of Kansas, 2012.
Sword, Wiley, Shiloh: Bloody April, Dayton, OH: Morningside, 2001.
For these and other titles on the Battle of Shiloh and Siege and Battle of Corinth, please visit our Eastern National bookstores or call them at (731) 689-3475.