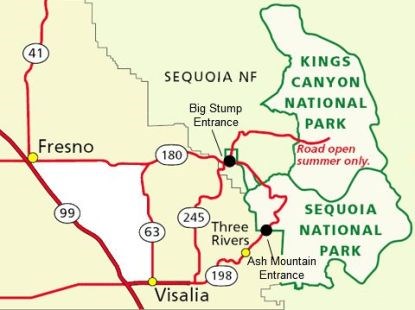 Park Entrances

Ash Mountain Entrance to Sequoia National Park
Highway 198 enters Sequoia National Park at the town of Three Rivers. Beyond the entrance station, the road is narrow and winding. Vehicles longer than 22 feet (6.7 km) are not recommended between Potwisha Campground and Giant Forest Museum.

Big Stump Entrance to Kings Canyon National Park
Highway 180 enters Kings Canyon National Park from the west via Fresno. If you have a longer vehicle or worry about winding roads you may prefer this entrance. Highway 180 is straighter, less steep, and wider.

Lookout Point Entrance to the Mineral King Area
If you're heading to the remote Mineral King area of Sequoia National Park, look for the junction of Mineral King Road with Highway 198 in the town of Three Rivers, two miles before the Ash Mountain Entrance. Only trails connect Mineral King with the rest of Sequoia National Park.

Detailed driving maps of the park are also available.

Please note that GPS and route-finding units may give inaccurate directions in this area. Double-check your route using the park map and road signs. Eshom Road may be difficult to navigate in most vehicles, especially when roads are snowy or wet. No roads cross the mountains west-to-east through Sequoia and Kings Canyon National Parks.