Accessible Features-Grant Grove Area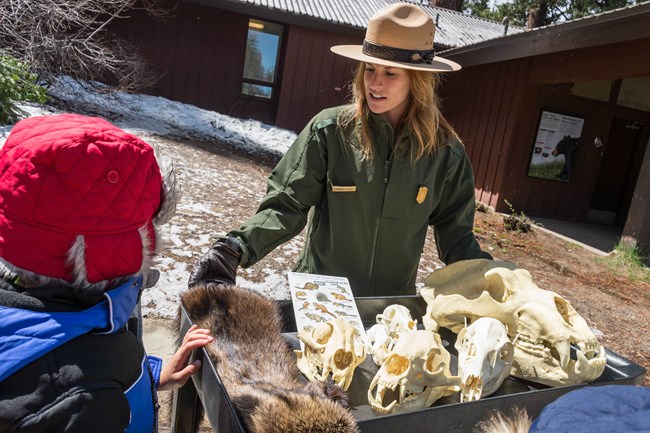 Featured Experiences
Panoramic Point Overlook
Open seasonally, Panoramic Point has a 0.5-mile (0.8 km) paved, moderately-steep trail leads to views of Hume Lake and Sierra Nevada wilderness. The trail has a 75-foot (23 m) elevation gain, with a 6.5% average grade and a top grade of 8.5%. Start at the southeast end of the parking lot and take a left turn at the fork to reach the viewpoint, where there are benches and outdoor exhibits. Turn back to the parking lot, or continue up the steeper trail for an additional viewpoint and a loop path back to the parking lot.

Parking: There is one accessible parking space and accessible vault restrooms. Nearby are extended picnic tables on paved or compact dirt surfaces. Panoramic Point Road closes when snow makes conditions impassible.
Grant Tree Trail
This 0.3-mile (0.5 km) trail winds through a sequoia grove, passing a historic cabin and the General Grant Tree, the world's second-largest tree. The trail also features tactile information panels, with raised illustrations and Braille text. While paved, the trail has steep sections and is not designated as wheelchair-accessible. A separate short trail that leads around the General Grant Tree includes stairs, but can be bypassed to complete the loop. Benches are placed at pullouts along the trail. The historic Gamlin Cabin has a raised threshold at its entry, although the interior is visible from the trail.

Parking: There is one accessible parking space, accessible flush restrooms, and drinking fountains.
Soundscapes Exhibit
At Kings Canyon Visitor Center, immerse yourself in the diverse soundscapes of the parks, from birds calling in the grassy foothills to bighorn sheep clashing in the high mountains. This accessible exhibit features high-quality audio paired with open-captioned video.
Other Experiences and Activities
Winter recreation (December-February)
Horseback riding (summer only)
Sequoia groves
Facilities and Services
Kings Canyon Visitor Center
Accessible restrooms are available outside the visitor center and also in the village restaurant. Outside the visitor center, you'll also find a lowered pay phone, water fountains, a water bottle filling station, and benches. Kings Canyon Visitor Center features barrier-free access to educational exhibits, films, information, and a park store. Rangers provide information at low and standing
desks. A park film shows in a small theater with bench seating and wheelchair space. Ask at the information desk for assistive listening and audio description receivers to use for the film. The exhibit hall also includes tactile, three-dimensional models of local wildlife.

Parking: The Grant Grove Village parking lot has five designated accessible spaces with access aisles. A wide, paved route provides access from the parking lot to the visitor center, restrooms, restaurant, and market center.
Azalea Campground
Site 30 is designated accessible. It is relatively level with a tent pad and firm and stable surfaces. The site features an accessible parking space, an extended picnic table, a raised fire ring, and connects to the fee station and accessible restroom via the flat, paved campground road.
Crystal Springs Campground
Group site F is designated as accessible for people with limited mobility. It includes an extended picnic table and an accessible
parking space. However, the campfire ring is not raised and the path to the restroom is unpaved.
Sunset Campground
Sites 26 and 116 are accessible and feature a paved accessible parking space, a level tent pad, raised grill, and accessible
picnic table. Paved routes lead to campground facilities, including accessible flush restrooms.
Amphitheaters (open seasonally)
Assisted listening system devices are available for ranger programs held at the amphitheater.
Sunset Amphitheater
Near Sunset Campground, this amphitheater is just south of Grant Grove Village on Highway 180. A wide, paved, gently-sloped route leads from an unmarked, paved parking lot to the amphitheater. The nearest accessible restrooms are located at the visitor center or near campsite 26. The amphitheater features backless benches with companion seating available at the ends. All seating is on a moderate slope.
Picnic Areas (open seasonally)

Columbine Picnic & Snowplay Area
Although there is no designated accessible parking at this picnic area, the route from the parking area to the accessible restrooms and picnic tables is firm and stable with gentle slopes. Several picnic tables are extended, and most grills are in
an accessible reach range.
Big Stump Picnic & Snowplay Area
Big Stump Picnic Area provides accessible picnic tables sheltered by overhead structures, as well as accessible grills.
Accessible parking spaces in a paved, level parking lot are available here.
Panoramic Point Picnic Area
The parking lot at Panoramic Point Picnic Area and Trailhead includes one accessible parking space with a marked aisle. Paved, slightly-sloped routes lead to an accessible vault restroom and extended picnic tables, several of which are on flat pavement.
Other Facilities and Services
WiFi: At visitor center
Post Office
ATM
Pay Phones
Wheelchair loan: Manual wheelchairs are available free at the Kings Canyon Visitor Center on a first-come, first-served basis. They can be taken throughout the parks, but must be returned to the original visitor center by closing time on the same day.
Lodging: John Muir Lodge and Grant Grove Cabins are managed by Delaware North. Mobility / Hearing accessible rooms are available with roll-in showers and visual alarms and notification devices at the lodge. To learn more about accessibility at John Muir Lodge, call (866) 807-3598.
Grant Village Market and Gift Shop: Gifts and souvenirs are available at Grant Grove Gift Shop, Kings Canyon Visitor Center Park Store, and Grant Grove Market. Groceries and supplies are available at Grant Grove Market. Interiors of these buildings are wheelchair-accessible, though they have narrow aisles.
Dining: Grant Grove Restaurant is operated by Delaware North and offers indoor dining and a walk-up window for to-go items. The restaurant is accessible to people in wheelchairs. Patio seating includes a wheelchair-accessible picnic table.
Big Stump Snowplay Area
Last updated: April 14, 2020