Accessible Features-Giant Forest & Lodgepole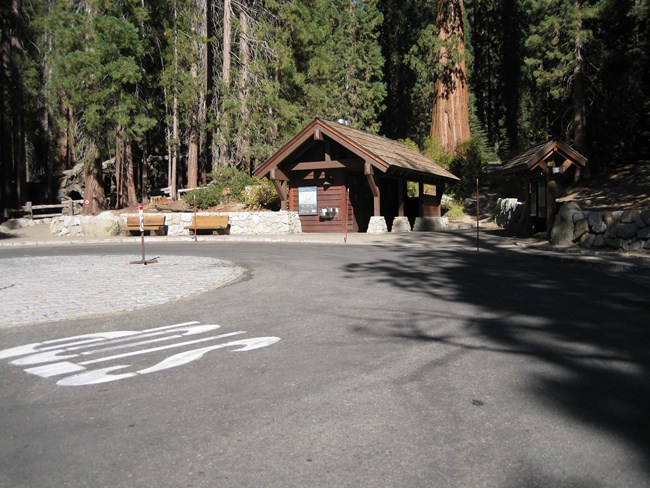 Featured Experiences
General Sherman Tree
See the largest tree in the world along a wheelchair-accessible trail. A paved, slightly-sloped path leads to several named sequoias, including the General Sherman tree. The trail is about 500 feet (150 m) long and features benches and educational exhibits. At the trailhead, an information board includes a map with information on accessible parking, wheelchair-accessible portions of the trail, and trail length. Some outdoor exhibits along the trail have good contrast, large type, and allow for a forward approach.

Parking in Summer: Parking is available at the Sherman Tree Accessible Parking Area and Trailhead. Five additional designated accessible parking spaces are available at the Main Sherman Tree Parking Area, located 0.5 miles (0.8 km) from of the Sherman Tree Accessible Parking Area. These spaces accommodate cars and vans, and include access aisles and curb cuts. From here, take an accessible shuttle to the Sherman Tree Accessible parking Area and Accessible Trailhead.

Parking in Winter: Accessible parking is located at the Sherman Tree Accessible Parking Area only. Fewer accessible designated spaces exist in winter.
Crystal Cave
From late May through September, Sequoia Parks Conservancy offers tours of a marble cavern. This tour is not wheelchair-accessible and visitors with limited mobility may have difficulty on the steep, narrow trail to the cave. The trail is 0.5-mile (0.8 km) to the cave entrance, descends 300 feet (91 m) from the parking area and includes several sets of stairs. Tours are 45 minutes and travel another 0.5 miles (0.8 km) in the cave along a path with low lighting. People who are Deaf or hard of hearing can enjoy the tour presented in American Sign Language or with assistive listening devices. Ask at the trailhead for assistance. American Sign Language translation is provided via videos on a tablet, which can be taken into the cave. Naturalists will indicate when to play each video.

No advance notice is required for these accessibility accommodations, but tour tickets must be purchased in advance before traveling to the cave. Buy tickets online at https://www.recreation.gov/ticket/facility/251898 at least two days in advance. A limited number of tickets may also be available at Foothills and Lodgepole Visitor Centers. For those who can't visit in person, a Crystal Cave video is sold at park stores.

Parking: Accessible parking spaces are located at the Moro Rock parking lot and the Crescent Meadow parking lot.
Big Trees Trail
Follow this 0.75-mile (1 km) paved trail around Round Meadow and learn more about giant sequoias. The moderately-sloped, paved path includes a long section of boardwalk around the far side of the meadow. Dispersed resting areas include benches with back rests, space for companion seating, and outdoor exhibits. Exhibits are generally situated at level landings with pullouts and sufficient space for people in wheelchairs to pass, while allowing for a side approach. Restrooms with a level entrance, clear interior circulation, handrails, and flush toilets are located at the trailhead. Nearby is a water bottle filling station that is operable with a closed fist. The paved route from the restrooms is slightly sloped, then levels out.

Parking: At the trailhead, there is a dedicated accessible lot with nine designated parking spaces, though they do not have access aisles. The paved route to the trail from the parking area is wide and slightly sloped. The trail can also be reached from Giant Forest Museum via a 0.25-mile (0.4 km) paved path. This route is moderately sloped.
Beetle Rock Vista
A short, sloped, paved trail leads to a granite-topped vista point with views stretching to the coastal range on clear days. Accessible parking is adjacent to the Beetle Rock trail, but is on an incline. Parking: There are two designated accessible spaces near the beginning of the short path that leads to Beetle Rock. One of the spaces has an access aisle, and both spaces have moderate sloping surfaces.
Auto Touring Along the Moro Rock / Crescent Meadow Road
Moro Rock / Crescent Meadow Road is open to vehicles with accessible parking placards, even when closed to other private vehicles in summer. In the summer, you can also take wheelchair-accessible park shuttles to sites along this road.

Parking: Accessible parking spaces are located at the Moro Rock parking lot and the Crescent Meadow parking lot.
Other Experiences and Activities
Sequoia groves
Winter activities (typically available December-February)
Facilities and Services
Visitor Centers
Giant Forest Museum
The plaza area outside the museum includes a kiosk on a level landing. Benches in the plaza area are on a slightly-sloping grade. Some of the benches provide space for companion seating. Area outdoor exhibits are located on a firm, stable, slightly-sloped surface. Shuttle stop waiting areas here include benches. Exterior restrooms immediately outside the museum are not accessible, however, two new accessible restrooms are in the parking lot across the street the museum. A water bottle filling station is operable with a closed fist. The museum entrance features a double plate automatic door. Inside, the information desk includes both high and low counter space. A water fountain is available near the interior accessible restroom, and is operable with less than five pounds of pressure. The museum features tactile exhibits within reach range, with displays at low levels, and with a front approach.

Parking: The parking lot adjacent to the museum and shuttle stop is a dedicated accessible lot. A paved, level route provides access from parking to the museum entrance. Three additional paved accessible spaces are directly across the street in the main Giant Forest Museum Upper Parking Lot—two are near the paved trail to Beetle Rock and one is by the new accessible vault bathrooms.
Lodgepole Visitor Center
The visitor center is typically open May through mid-October. The entrance to the visitor center has low-energy, power-operated door with two push buttons, one at wheelchair height and another within a kick zone. The visitor center's interior has barrier-free access to interpretive exhibits, the park store, and a standing-height ranger desk. Audio description and assistive listening devices are available upon request for park films. Outside the visitor center, there are dual-height drinking fountains with a water bottle filling station and a lowered pay phone. Accessible restrooms are available around the side of the building.
Campgrounds (open seasonally)
Lodgepole Campground
Campsites 62 and 63 are designated accessible and have accessible parking spaces, picnic tables that accommodate wheelchairs, raised grills, and level tent pads on firm and natural surfaces. There is a clear route from the tent pad to the barbecue grill, and a paved route to the accessible restrooms and accessible water spigot.

Parking: A central parking lot includes six designated accessible auto / van parking spaces that are moderately sloped. A comfort station is located next to the parking lot and provides accessible restrooms.
Dorst Creek Campground
Campsites 6, 11, 172–175, 177, and 180 are designated accessible. These sites feature paved accessible parking, level tent pads, grills, picnic tables, and access paths to campground facilities.
Amphitheaters (open seasonally)
Assisted listening devices are available at ranger programs held at amphitheaters.
Lodgepole Amphitheater
Amphitheater seating consists of wooden benches on a moderately-sloped surface. Companion seating is available at the
exterior ends of benches, although no formal companion seating spaces are designated. Comfort stations are not available at the amphitheater and the nearest bathrooms are located in the campgrounds or at the parking lot.

Parking: Use the far end of the campground parking lot to access the amphitheater. There are no designated accessible parking spaces near the amphitheater. A wide, moderately-sloped, wheelchair-accessible paved path leads from the parking lot to the amphitheater.
Dorst Creek Amphitheater
Located in the Dorst Creek Campground, this amphitheater seating consists of wooden benches on a moderately-sloped surface. Companion seating space is available, though no formal companion seating is designated. Visitors must climb steps to reach a steep, paved path to the amphitheater. The amphitheater cannot be reached by wheelchair.

Parking: The parking lot is located below steep, paved path to the amphitheater.
Picnic Areas (open seasonally)
Crescent Meadow Picnic Area
Limited facilities are available at this picnic area. This area has accessible vault toilets, some accessible parking spaces with
significant slopes, and no extended picnic tables. A wheelchair-accessible shuttle stops here in summer.
Pinewood Picnic Area
One mile (1.6 km) north of Giant Forest Museum, Pinewood Picnic Area has one extended picnic table, accessible parking, raised grills, water fountains, and accessible vault toilets. Sites are available for single family or group picnics.
Other Facilities and Services
Wheelchair loan: Check out a wheelchair at the Giant Forest Museum or Lodgepole Visitor Center free, on a first-come, first-served basis. They can be taken throughout the parks but must be returned to the original visitor center by closing time on the same day.
Shuttles (summer, some winter holidays): Free shuttles stop at locations throughout Giant Forest and Lodgepole. Shuttles are wheelchair-accessible and drivers announce each stop.
Laundry (summer only): Located at the Lodgepole Market, the laundromat and machines are wheelchair-accessible.
Accessible shower: Roll-in shower with free-standing bench available at Lodgepole Market.
RV dump stations (open seasonally): Located near Lodgepole and Dorst Creek campgrounds
Pay phones
Lodging: Wuksachi Lodge has mobility / hearing accessible rooms with roll-in showers, visual alarms and notification devices. For more information, call (866) 807-3598.
Lodgepole Market & Gift Shop: Shop spaces are wheelchair-accessible, though they have narrow aisles.
Dining: Lodgepole Café (open seasonally), Lodgepole Market and The Peaks Restaurant are operated by Delaware North and follow ADA standards. A seasonal food cart located in the Main Sherman Tree Parking Area; it is not wheelchair-accessible.
• Wolverton Snowplay Area
• Accessible Restrooms (winter location): Behind the Lodgepole Market. Obtain key inside the market.
Last updated: August 11, 2023